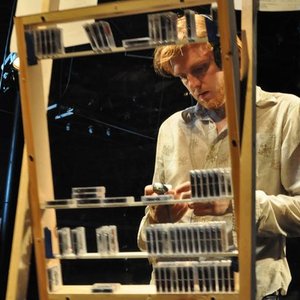 300 Tapes (2010)
Produced by
Alberta Theatre Projects and Public Recordings and The Theatre Centre
Creators: Ame Henderson and Bobby Theodore and Frank Cox-O'Connell and Joe Cobden and Brendan Gall
Venue
The Theatre Centre – Franco Boni Theatre

Run
December 1st, 2010 – December 12th, 2010
Synopsis
Imagine recording your life on 100 tapes.
Record. Rewind. Play. Listen. Stop.
Three men recorded their lives onto 100 tapes each for this intimate archive of fact and fiction that explores how our memories and identity are shaped (and warped) by time, our own ideas of ourselves and the eyes (and ears) of others.
With a ground breaking sound design, a choreography of our everyday twitches and three performers revealing everything, this bold experiment in storytelling thoughtfully and playfully provokes and questions identity, memory, perception and authenticity. (http://publicrecordings.org/)
---
Cast
Creative Team
Production
Staff
---