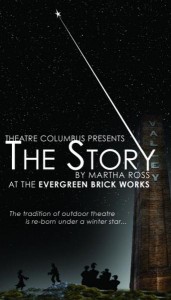 The Story (2011)
Produced by
Playwright: Martha Ross
Director: Jennifer Brewin
Venue
Previews
December 13 - December 15, 2011
Run
December 13th, 2011 – December 30th, 2011
Synopsis
Outdoor winter theatre – explore the Evergreen Brick Works with Theatre Columbus. The award winning ensemble presents an unconventional telling of The Nativity.
The Story premiered at B.C's Caravan Farm Theatre under the direction of Theatre Columbus' Artistic Director Jennifer Brewin. This winter Ms. Brewin assembles a stellar team to present a re-imagined version for Toronto.
The Audience follows the action through the Evergreen Brick Works and adjacent parkland, where they meet shepherds, ruffians, weird wise men, roman soldiers, the angel Gabriel, King Herod, a choir, a confused young couple and a variety of surprised dog walkers.
The hour long walking show is entirely outdoors.  (theatrecolumbus.ca)
---
Cast
Creative Team
Music
Production
---