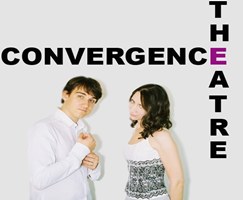 Convergence Theatre
Established
2006
Co-Artistic Director: Julie Tepperman
Co-Artistic Director: Aaron Willis
Founded in 2006, Convergence Theatre is a Toronto-based, artist-driven, Dora-nominated, "indie" theatre company.  With each new project we challenge ourselves to find innovative ways to push the boundaries of intimacy between performer and audience.  We create plays in site-specific or non-traditional venues, as well as re-imagine traditional theatre spaces.  We invite the audience to be an integral part of their theatre-going experience by fully immersing them in the world of the play.
We believe that the creation of art is an integral element of tikkun olam – the Jewish concept of 'repairing the world'.  Theatre asks us to engage more fully with our society and the world around us.  When we create our work, we invite artists and audiences to converge and build an event with the potential to transform us for the better, and hopefully a small piece of the broken world is mended.
Convergence Theatre has been twice voted the 'Best Site Specific Theatre Company in Toronto' by NOW Magazine (2013 & 2008) and Aaron & Julie were listed as Toronto's "most respected Theatre duo" by NOW Magazine (2009).
(passemuraille.on.ca/resident-companies/)
---
Produced by Convergence Theatre
| | |
| --- | --- |
| Athabasca | January 9th, 2019 – January 20th, 2019 |
| The Unending | October 13th, 2016 – October 23rd, 2016 |
| The Unending | June 29th, 2016 – July 10th, 2016 |
| Passion Play | June 10th, 2013 – June 30th, 2013 |
| YICHUD (Seclusion) | May 21st, 2011 – May 29th, 2011 |
| YICHUD (Seclusion) | February 10th, 2010 – February 27th, 2010 |
| Yichud / Seclusion | January 8th, 2009 – January 18th, 2009 |
| The Gladstone Variations | July 14th, 2008 – August 3rd, 2008 |
| The Gladstone Variations | July 4th, 2007 – July 15th, 2007 |
| Autoshow | July 6th, 2006 – July 16th, 2006 |
Current Staff
---