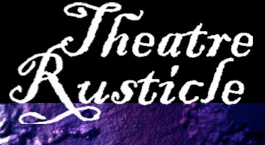 Theatre Rusticle
Theatre Rusticle is an independent physical theatre company formed in 1998 by Allyson McMackon. We create original and daring work inspired by plays, poems, history and literature with an eye to the relationship between text and movement. We are committed to creating plays that are spare yet image drenched and embrace the language of text and the body. Like the rusticles we are named after, we eat away at the raw material of our sources and leave beautiful, haunting forms behind. Our raw material is text, the body, emotion and narrative. Our forms are the plays we create.
We embrace imagination, play, the deeply personal, the deeply anonymous and the inner lives of both performer and character. In our work, the process is not hidden inside the performance, but a transparent layer breathing life and density into it. We aspire to create work that is human, and asks artists and audiences alike how they define themselves and the world we live in. Our plays are challenging, dream-like, capricious and rich with meaning.
Our shows have tackled content ranging from Strindberg to Restoration Comedy and from Virginia Woolf to Pierre Trudeau. A child of fringe festivals, we performed our first work at the San Francisco Fringe Festival in 1998 and since 2000 have been self-producing and developing new work. We were incorporated as a not for profit charitable organization in March 2005.
(theatrerusticle.org)
Website
theatrerusticlewordpresscom.wordpress.com
---
Produced by Theatre Rusticle
| | |
| --- | --- |
| Our Town | March 26th, 2017 – April 2nd, 2017 |
| The Stronger Variations | November 27th, 2014 – December 7th, 2014 |
| Dinner at Seven-Thirty | October 12th, 2013 – October 20th, 2013 |
| Peter and the Wolf | September 5th, 2011 – September 11th, 2011 |
| Birnam Wood | March 18th, 2010 – March 27th, 2010 |
| The Stronger Variations | December 7th, 2006 – December 16th, 2006 |
Current Staff
---