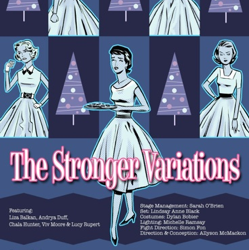 The Stronger Variations (2014)
Produced by
Presented by
Creator: Allyson McMackon
Director: Allyson McMackon
Devloped and created by the company.
Venue
The Alexander Street Chamber Theatre

Run
November 27th, 2014 – December 7th, 2014
Awards & Nominations
2015 Dora Award Nominee (Independent Theatre Division) – Outstanding Costume Design (Dylan Bobier)
Synopsis
What happens when a woman decides to meet her husband's mistress on Christmas Eve?
This is the question that playwright August Strindberg asked in his 1889 play The Stronger and that award-winning physical theatre company Theatre Rusticle revisits in their original work The Stronger Variations.
Set in the sumptuous world of the 1950's, The Stronger Variations uses an intergenerational cast of five women to examine the many ways that feminine power, sisterhood, sexuality, compassion, and betrayal can express themselves. Srindberg's original text was a ten minute monologue for two women – a wife who speaks and a mistress who remains silent. Theatre Rusticle blows apart the original text by giving multiple voices to each of the women, providing a rich and nuanced portrait of female relationships and allowing us to discover how we are not so different from each other. (buddiesinbadtimes.com)
---
Cast
Creative Team
Production
Staff
---