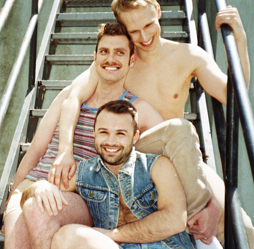 Body Politic (2016)
Produced by
Buddies in Bad Times Theatre and lemonTree Creations
Playwright: Nick Green
Director: Alisa Palmer
Venue
The Alexander Street Cabaret Space

Run
May 21st, 2016 – June 12th, 2016
Awards & Nominations
2017 Dora Award Nominee (General Theatre Division) – Outstanding Production
2017 Dora Award Winner (General Theatre Division) – Outstanding New Play (Nick Green)
2017 Dora Award Nominee (General Theatre Division) – Outstanding Performance – Female (Diane Flacks)
Synopsis
This sweeping historical drama re-imagines the events and personalities surrounding one of the most potent journalistic forces in our country, and the legacy it has left behind.
The story unfolds as a founding member of the paper's collective recounts a series of memories during an intimate encounter with a young man. As an unexpected relationship develops, the generational differences between them shine a light on the massive shifts in queer identity and politics in the last 50 years, the disappearing of a history, and the loss of a unifying struggle.
As Toronto's queer media landscape shifts again with the end of the printed editions of Xtra, Body Politiclooks back at the very beginning of it all. After years spent interviewing people involved in The Body Politic, playwright Nick Green brings to life the legal, political, and personal struggles surrounding one of Canada's most important queer publications.
The Body Politic, published from 1971-1987, remains one of the most historically significant drivers of queer politics and history in Canada. Collectively owned and operated, this newspaper housed the voices of over one hundred of Canada's foremost queer activists, artists, poets, and writers. With 16 years of archives available, The Body Politic survives as a record of Canadian queer history at some of it's most seminal moments: censorship battles, police raids, historic rallies, the onset of HIV/AIDS, and many of the important debates that still resonate in today's queer politic. (buddiesinbadtimes.com)
---
Cast
Creative Team
Music
Production
Staff
---