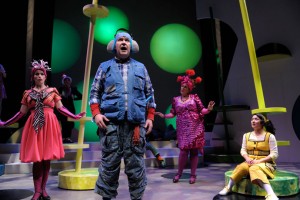 Seussical (2011)
Produced by
Music: Stephen Flaherty
Lyrics: Lynn Ahrens
Book: Lynn Ahrens and Stephen Flaherty
Creators: Stephen Flaherty and Lynn Ahrens and Eric Idle
Venue
Run
November 7th, 2011 – December 30th, 2011
Synopsis
An adaptation of the Broadway musical for young audiences, Seussical™ brings together Dr. Seuss's much loved books, Horton Hears a Who!, Horton Hatches the Egg, and the story of Gertrude McFuzz. Narrated by the Cat in the Hat, it centers on Horton the Elephant's quest to save the people of Whoville, who live on a tiny speck of dust.
The play begins with Horton splashing in a pool when he hears a faint cry for help that no one else can hear. The animals in the Jungle of Nool make fun of Horton, but he refuses to ignore the Whos in Whoville, especially little Jojo, who becomes his friend. Horton places the speck of dust on a clover but it is stolen by the evil eagle, Vlad Vladikoff and dropped in a huge fi eld of clover.
While Horton desperately searches for his clover, Gertrude McFuzz, who has a new tail like showy Mayzie's, tries in vain to get his attention. Mayzie appears and convinces Horton to stop searching for the Whos and to sit on her egg instead, but while he is doing this, he is captured by hunters and sent to a circus.
Gertrude fi nds Horton and tells him she has located the Whos, but there is still more trouble when the animals of Nool put Horton on trial and threaten to boil the speck of dust with Whoville on it. Horton entreats the Whos to make themselves heard, Jojo gives a great yell, and the animals of Nool fi nally hear the Whos. In the end, Horton hatches an elephant-bird that he and Gertrude decide to bring up together. (youngpeoplestheatre.ca)
---
Cast
Creative Team
Music
Production
Staff
---