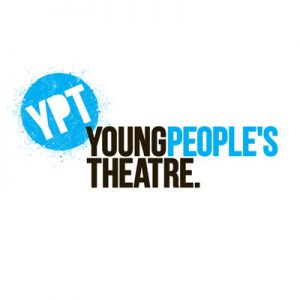 Young People's Theatre
Artistic Director: Allen MacInnis
Executive Director: Nancy J. Webster
Young People's Theatre is the largest Theatre for Young Audiences (TYA) company in Canada and a significant institution in the Canadian professional theatre community. Over our 48-year history we have produced many of the most important works that now form the canon of plays for young audiences in this country. Learning is at the centre of everything we do and YPT is renowned as the showplace for presenting important TYA work developed elsewhere. In addition to being a producer and presenter of theatre, YPT has also been home to a year-round Drama School for youth since 1969.
At the centre of YPT's artistic policy is a desire to have a positive and lasting impact on the emotional, social, and intellectual development of young people in order for them to grow into the unique and wonderful people they were born to be. At YPT we also believe that the more challenging, the more hostile, the more 'isolated within-the-crowd' our world becomes, the more we need art to help us interpret the universe, connect with each other, and imagine a better future. If adults need this, kids need it more. The aesthetic vision for YPT is one where three streams of performance are given importance. Firstly, the classics of children's literature from around the world offer children membership in an ancient childhood, renewing in them the images and inspirations of our own lives as children. Secondly, contemporary works and vigorous new Canadian play development ensure continuing relevance to the real lives of kids. Finally, the Drama School creates theatre for youth by youth.
YPT is a member of the Professional Association of Canadian Theatres and engages, under the terms of the Canadian Theatre Agreement, professional Artists who are members of the Canadian Actors' Equity Association.
(youngpeoplestheatre.ca)
Website
http://www.youngpeoplestheatre.ca
Venues
The Nathan Cohen Theatre
The Susan Rubes Theatre

---
Produced by Young People's Theatre
| | |
| --- | --- |
| You and I | March 15th, 2023 – March 26th, 2023 |
| The Darkest Dark | February 2nd, 2023 – April 2nd, 2023 |
| Antigone: 方 | April 29th, 2019 – May 16th, 2019 |
| James and the Giant Peach | February 6th, 2017 – March 8th, 2017 |
| Seussical | November 14th, 2016 – December 31st, 2016 |
| One Thing Leads To Another | September 22nd, 2016 – October 8th, 2016 |
| The Wizard of Oz | April 4th, 2016 – May 15th, 2016 |
| Jacob Two-Two Meets the Hooded Fang | November 16th, 2015 – January 3rd, 2016 |
| Hana's Suitcase | October 5th, 2015 – October 30th, 2015 |
| Emily's Piano | April 13th, 2015 – May 2nd, 2015 |
| Roald Dahl's James and the Giant Peach | November 24th, 2014 – January 4th, 2015 |
| To Kill a Mockingbird | October 6th, 2014 – November 2nd, 2014 |
| Sultans of the Street | April 28th, 2014 – May 15th, 2014 |
| Minotaur | March 24th, 2014 – April 13th, 2014 |
| Annie | November 11th, 2013 – December 29th, 2013 |
| Cinderella | November 12th, 2012 – December 30th, 2012 |
| Beyond the Cuckoo's Nest | May 7th, 2012 – May 17th, 2012 |
| Would You Say The Name of This Play? (nggrfg) | November 21st, 2011 – December 3rd, 2011 |
| Seussical | November 7th, 2011 – December 30th, 2011 |
| The Big League | January 31st, 2011 – February 24th, 2011 |
| A Year With Frog and Toad | November 15th, 2010 – December 30th, 2010 |
| The Invisible Girl | October 12th, 2010 – October 23rd, 2010 |
| The Princess & the Handmaiden | November 15th, 2009 – December 30th, 2009 |
| Pobby and Dingan | April 20th, 2009 – May 10th, 2009 |
| The Forbidden Phoenix | February 2nd, 2009 – March 11th, 2009 |
| You're a Good Man Charlie Brown | November 9th, 2008 – December 30th, 2008 |
| I Think I Can | April 9th, 2007 – May 13th, 2007 |
| Seussical | November 12th, 2006 – December 31st, 2006 |
Presented by Young People's Theatre
| | |
| --- | --- |
| The 26 Letter Dance | February 26th, 2019 – March 16th, 2019 |
| The Code | November 27th, 2018 – December 14th, 2018 |
| What If Romeo and Juliet… | October 10th, 2018 – October 19th, 2018 |
| Goodnight Moon | February 29th, 2016 – March 19th, 2016 |
| Jabber | November 26th, 2013 – December 7th, 2013 |
| A Story Before Time | October 16th, 2013 – October 24th, 2013 |
| Known to Police | June 15th, 2012 – June 17th, 2012 |
| The Neverending Story | February 27th, 2012 – March 17th, 2012 |
| In This World | May 10th, 2010 – May 20th, 2010 |
| Cranked | April 22nd, 2008 – May 3rd, 2008 |
| Rough House | April 8th, 2008 – April 20th, 2008 |
Current Staff
---