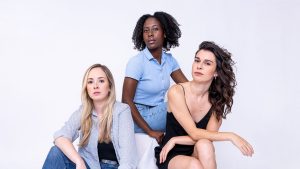 Three Sisters (2022)
Produced by
Hart House Theatre and The Howland Company
Playwright: Anton Chekhov
Director: Paolo Santalucia
Adapter: Paolo Santalucia
Venue
Run
October 26th, 2022 – November 12th, 2022
Synopsis
This contemporary adaptation of Chekhov's Three Sisters explores our endless desire for meaning in an uncertain world. The play confronts what it means to be in love: with each other, with ourselves, and the people we choose to spend our lives with.
In the aftermath of their father's passing, Three Sisters follows the four Prozorov siblings: Irina, Masha, Olga, and Andrei as they long to escape the uninhabitable present they've somehow managed to find themselves in, while idolizing an increasingly distant past and trying against all odds to maintain hope for a better tomorrow.
Weary of their small-town surroundings, the Prozorovs dream of returning to the home they left eleven long years ago. But ground down by disappointment, debt, and the oppressive ordinariness of their daily lives, they're unsure if they'll ever be able to get there.
It highlights the tension between the bright future we all long for, and the harsh realities of our current and radically changing world. It forces us to question what it was our parents tried to build for us and whether we want to inherit it. (harthouse.ca)
---
Cast
Creative Team
Production
Staff
---