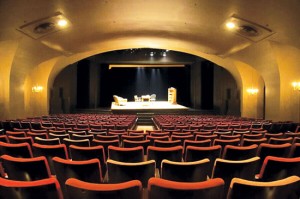 Hart House Theatre
Occupying company
Seating Capacity
454
Address
7 Hart House Circle
Toronto, Ontario
M5S 3H3
Venue on the campus of the University of Toronto campus. For years it was the hub of anglo-Canadian theatrical activity and creation. Built in 1919 and donated to the U of T in 1945, Hart House Theatre was not part of the Massey Foundation's original gift of Hart House to the university and operated as a separate entity.
The Players Club, a resident company, was founded by Roy Mitchell in 1919 and according to later participant Mavor Moore was meant to be "a crucible for new theatre." It also proved to be a magnificent vehicle for emerging young actors. From the second season of Mitchell's company, there was always a Canadian play on the schedule.
The nature of the action at Hart House Theatre exploded after WWII when it became more distinctly a proving ground for actors on their way to professional careers (and its productions were often reviewed as such). Actors who passed through the theatre include: Charmion King, William Hutt, Kate Reid, Donald Harron, and Donald Sutherland among many others.
In 1966, the house became the stage for activities by the University's Graduate centre for the Study of Drama. In 1974, it saw the long overdue premiere of Merrill Denison's Marsh Hay (directed by Richard Plant), a work written over 50 years earlier.
From 1986, the Theatre was used primarily as a rental facility by groups external to the university and had relatively limited contact with student productions on campus.
In December, 2000, Hart House decided to integrate the venue into its cultural program. The Theatre is currently a focal point for the performing arts in the university community. Students, alumni, faculty, staff and friends of the university use diverse mediums – drama, music, film, dance and spoken word – to explore and express emerging interests and ideas.
(Source: Canadian Theatre Encyclopedia, www.CanadianTheatre.com. Additional information provided by Patrick Fothergill)
---
Recent and Upcoming Productions
| | |
| --- | --- |
| The Gray – A Wilde Musical in Concert | April 20th, 2023 – April 22nd, 2023 |
| Three Sisters | October 26th, 2022 – November 12th, 2022 |
| Legally Blonde: The Musical | January 17th, 2020 – February 1st, 2020 |
| The Rocky Horror Show | September 27th, 2019 – October 12th, 2019 |
| Retreat | March 1st, 2019 – March 9th, 2019 |
| The Penelopiad | November 9th, 2018 – November 24th, 2018 |
| Heathers: The Musical | September 21st, 2018 – October 6th, 2018 |
| Titus Andronicus | March 2nd, 2018 – March 10th, 2018 |
| The Crucible | January 19th, 2018 – February 3rd, 2018 |
| 7 Stories | March 3rd, 2017 – March 11th, 2017 |
| Carrie: the musical | January 20th, 2017 – February 4th, 2017 |
| Much Ado About Nothing | November 4th, 2016 – November 19th, 2016 |
| Into the Woods | January 15th, 2016 – January 30th, 2016 |
| Hamlet | November 4th, 2015 – November 21st, 2015 |
| We the Family | September 18th, 2015 – October 3rd, 2015 |
| This Is For You, Anna | February 27th, 2015 – March 7th, 2015 |
| Jesus Christ Superstar | January 16th, 2015 – January 31st, 2015 |
| The Tempest | November 5th, 2014 – November 22nd, 2014 |
| The Importance of Being Earnest | September 19th, 2014 – October 4th, 2014 |
| Goodnight Desdemona (Good Morning Juliet) | February 28th, 2014 – March 8th, 2014 |
| The Wedding Singer | January 10th, 2014 – January 25th, 2014 |
| Twelfth Night | November 6th, 2013 – November 23rd, 2013 |
| Bone Cage | September 20th, 2013 – October 5th, 2013 |
| Bent | March 1st, 2013 – March 9th, 2013 |
| Robin Hood: The Legendary Musical Comedy | January 11th, 2013 – January 26th, 2013 |
| Romeo & Juliet | November 7th, 2012 – November 24th, 2012 |
| Rosencrantz and Guildenstern Are Dead | September 21st, 2012 – October 6th, 2012 |
| Cabaret | January 13th, 2012 – January 28th, 2012 |
| Macbeth | November 9th, 2011 – November 26th, 2011 |
| The Great American Trailer Park Musical | September 23rd, 2011 – October 8th, 2011 |
| Bullet For Adolf | April 19th, 2011 – May 7th, 2011 |
| Yellow Face | March 4th, 2011 – March 12th, 2011 |
| Dirty Rotten Scoundrels | January 14th, 2011 – January 29th, 2011 |
| Equus | November 12th, 2010 – November 27th, 2010 |
| Harriet's House | July 2nd, 2010 – July 3rd, 2010 |
| Robertson Davies: The Peeled I | March 3rd, 2010 – March 6th, 2010 |
| High Fidelity | January 15th, 2010 – January 30th, 2010 |
| A Midsummer Night's Dream | November 20th, 2009 – December 5th, 2009 |
| Jerry Springer – The Opera | September 24th, 2009 – October 10th, 2009 |
| Bare | July 17th, 2009 – August 1st, 2009 |
| Jerry Springer – The Opera | January 16th, 2009 – January 31st, 2009 |
| Banana Boys | November 12th, 2008 – November 15th, 2008 |
| Macbeth | May 7th, 2008 – May 27th, 2008 |
| Lysistrata: a play with music | January 17th, 2007 – January 27th, 2007 |
---