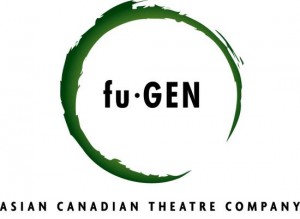 fu-GEN Asian Canadian Theatre Company
Established
2002
Artistic Director: David Yee
General Manager: Carin Lowerison
fu-GEN is a charitable theatre company dedicated to the development of professional Asian Canadian theatre artists through the production of new and established works.

OUR MISSION:
To produce works of Asian North American playwrights, and foster new works by emerging playwrights.
To explore and address issues of Asian North American's societal roles, responsibilities and identity in the past, present and future through our artistic endeavors.
To build a stronger, truly multicultural Canadian community by breaking down stereotypes through education and development of a strong cultural artistic base.
OUR VISION:
We serve the Asian Canadian theatre artist
We are dedicated to exploring the underlying Asian Canadian story
We believe in diversity of practice: using non-traditional space, time, methodology & philosophy
We are evolving with our artists
(fu-gen.org)
Website
---
Produced by fu-GEN Asian Canadian Theatre Company
| | |
| --- | --- |
| No Foreigners | February 21st, 2018 – February 25th, 2018 |
| acquiesce | November 3rd, 2016 – November 27th, 2016 |
| Durango | May 16th, 2015 – May 31st, 2015 |
| Ching Chong Chinaman | March 12th, 2013 – March 30th, 2012 |
| Brown Balls | May 3rd, 2011 – May 15th, 2011 |
| Yellow Face | March 4th, 2011 – March 12th, 2011 |
| Lady in the Red Dress | January 24th, 2009 – February 21st, 2009 |
| Banana Boys | November 12th, 2008 – November 15th, 2008 |
| Singkil | January 6th, 2007 – January 28th, 2007 |
Presented by fu-GEN Asian Canadian Theatre Company
Current Staff
---