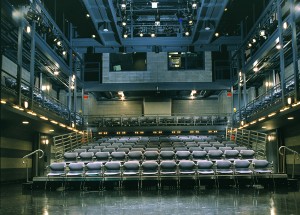 Meridian Arts Centre – Greenwin Theatre
Seating Capacity
200
Website
https://tolive.com/Venue-Detail-Page/reference/MAC-Greenwin-Theatre-Promoters
Address
5040 Yonge Street
Toronto, Ontario
M2N 6R8
The "black box" design of the Studio Theatre makes for an ingenious performance space dedicated to the demands of small scale performances. Developed on the courtier model, the Studio's flexible space accommodates proscenium style drama, theatre in the round, experimental formats and cabaret style dinner theatre. It is also the perfect space for multi-media and corporate presentations.
The 200 seat house (maximum capacity) is an incredibly versatile room. Retractable seating and wrap-around loges allow for a variety of seating configurations. The Studio Theatre is acoustically protected from neighboring rooms as well as from the outside and it is hard-wired to the Centre's state of the art recording studio. Panels and curtains provide exceptional acoustic versatility to accommodate the most exacting artistic standards.
The most contemporary room in the Centre, the Studio Theatre is part futuristic, part Bauhaus with a stunning mixture of black and steel, accented by pale blue, comfortably modern chairs. A house track lighting system and a comprehensive grid lighting system for the stage complete an exceptionally inspiring room.
(tocentre.com)
---
Recent and Upcoming Productions
| | |
| --- | --- |
| O Christmas Tea | November 17th, 2022 – December 10th, 2022 |
| Actually | September 14th, 2019 – September 29th, 2019 |
| Night Feed | July 21st, 2019 – July 27th, 2019 |
| Dry Powder | April 4th, 2019 – April 14th, 2019 |
| Bar Mitzvah Boy | November 17th, 2018 – December 2nd, 2018 |
| Bad Jews | October 20th, 2018 – November 11th, 2018 |
| Brighton Beach Memoirs | May 22nd, 2018 – June 10th, 2018 |
| Mikveh | April 14th, 2018 – May 6th, 2018 |
| My Name is Asher Lev | November 4th, 2017 – November 26th, 2017 |
| The Jazz Singer | May 23rd, 2017 – June 18th, 2017 |
| Freud's Last Session | April 22nd, 2017 – May 14th, 2017 |
| The Immigrant: A Musical | October 31st, 2015 – November 22nd, 2015 |
| Driving Miss Daisy | May 30th, 2015 – June 21st, 2015 |
| New Jerusalem | March 15th, 2014 – April 13th, 2014 |
| The Life is Sweet Project | February 10th, 2014 |
| Tick, Tick… Boom | September 21st, 2013 – October 6th, 2013 |
| I Love You, You're Perfect, Now Change | May 14th, 2013 – June 2nd, 2013 |
| The Whipping Man | March 21st, 2013 – April 14th, 2013 |
| Ordinary Days | November 29th, 2012 – December 9th, 2012 |
| Dianne and Me | September 19th, 2012 |
| I Love You Because | March 28th, 2012 – April 15th, 2012 |
| Songs for a New World | March 30th, 2011 – April 23rd, 2011 |
| [title of show] | September 22nd, 2010 – October 10th, 2010 |
| Almost, Again | July 16th, 2010 – July 24th, 2010 |
| The Last Five Years | May 7th, 2010 – May 23rd, 2010 |
| Altar Boyz | September 23rd, 2009 – October 11th, 2009 |
---