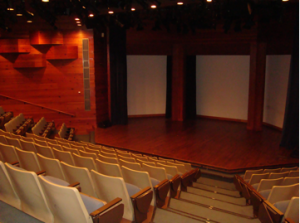 The George Ignatieff Theatre
Address
15 Devonshire Place
Toronto, ON
Combining day-time classes during the term with special events after hours makes the George Ignatieff Theatre a hub of the Trinity College community. Guest lecturers, new authors, conferences, meetings, cultural groups, dance companies, student and professional plays are among the many attractions found here.
The theatre, on the ground floor of the Larkin Building, directly south of Varsity stadium, is conveniently located for community groups that rent the facility on evenings, weekends, and in the summer.
It is the home of the Trinity College Dramatic Society.
http://www.trinity.utoronto.ca/visit/bookings/git/git.html
---
Recent and Upcoming Productions
| | |
| --- | --- |
| Cin-DAH-rella! | July 21st, 2022 – July 23rd, 2022 |
| Lexi and the Flying b's | July 4th, 2019 – July 13th, 2019 |
| RADIOACTIVE SPYDER | July 4th, 2019 – July 14th, 2019 |
| Dungee the Dragon & The Just-Okay Juggler | July 4th, 2019 – July 14th, 2019 |
| Gremlin Hour | July 3rd, 2019 – July 14th, 2019 |
| Mice at Centre Ice | July 3rd, 2019 – July 13th, 2019 |
| Philip & Lucinda Dino-Show | July 3rd, 2019 – July 13th, 2019 |
| BOY vs FLY | July 3rd, 2019 – July 14th, 2019 |
| Shadow Kingdom | July 6th, 2018 – July 14th, 2018 |
| The Magnificent Terrific Top-Notch Superb Show | July 5th, 2018 – July 15th, 2018 |
| And Then… She Did! | July 5th, 2018 – July 15th, 2018 |
| Trunk! | July 5th, 2018 – July 15th, 2018 |
| Sharnoozle! | July 4th, 2018 – July 14th, 2018 |
| The Space Chums | July 4th, 2018 – July 15th, 2018 |
| Tales of Foreign Lands and People | July 4th, 2018 – July 14th, 2018 |
| The Princess of the Tower | July 4th, 2018 – July 15th, 2018 |
| Nithy, Ace Detective | July 7th, 2017 – July 15th, 2017 |
| Jay & Shilo's Sibling Revelry | July 6th, 2017 – July 16th, 2017 |
| Bad Dog Theatre Presents: Animated! | July 6th, 2017 – July 15th, 2017 |
| Blink's Garden | July 6th, 2017 – July 15th, 2017 |
| Fables From Far Away Lands | July 6th, 2017 – July 16th, 2017 |
| Night at Castle Impendingdoom | July 5th, 2017 – July 16th, 2017 |
| Alex the Artist | July 5th, 2017 – July 16th, 2017 |
| Death Meets Harlequin | July 5th, 2017 – July 16th, 2017 |
| Iza the Brave | July 1st, 2016 – July 9th, 2016 |
| The Funky Punckies | June 30th, 2016 – July 9th, 2016 |
| Twelfth Night…A Puppet Epic! | June 30th, 2016 – July 9th, 2016 |
| Tuck & Daisy | June 30th, 2016 – July 10th, 2016 |
| Downtown Jay | June 30th, 2016 – July 10th, 2016 |
| Pirates Don't Babysit! | June 29th, 2016 – July 10th, 2016 |
| I Want to Be | June 29th, 2016 – July 10th, 2016 |
| My Silly Yum | June 29th, 2016 – July 10th, 2016 |
| Thumped! | July 3rd, 2015 – July 12th, 2015 |
| Hansel & Gretel | July 3rd, 2015 – July 12th, 2015 |
| Cinderella: It Ain't Over Till the Shoe Fits | July 2nd, 2015 – July 11th, 2015 |
| The Crazy Space Adventures of Princess Sparkly Butt & The Hot Dog Kid | July 2nd, 2015 – July 11th, 2015 |
| Eep and Coo and the Island that Flew | July 2nd, 2015 – July 11th, 2015 |
| Liver Diie: The Live Action Monster Maze Game Show Of Treasures & Horrors With Puppets | July 2nd, 2015 – July 12th, 2015 |
| Corral Blue Can't Dance! | July 1st, 2015 – July 11th, 2015 |
| Hamlet… A Puppet Epic! | July 1st, 2015 – July 12th, 2015 |
| Soaring Above Reality | July 1st, 2015 – July 11th, 2015 |
| Watching Seana McKenna Watch Paint Dry | July 4th, 2014 – July 13th, 2014 |
| Concrete Kid | July 4th, 2014 – July 13th, 2014 |
| Punch Up | July 4th, 2014 – July 13th, 2014 |
| Red Bill | July 4th, 2014 – July 12th, 2014 |
| Julius Caesar Project | July 3rd, 2014 – July 13th, 2014 |
| Prisoners & Criminals | July 3rd, 2014 – July 13th, 2014 |
| Sex T-rex Presents – Watch Out Wildkat! : Yer Dealin' with The Devil | July 3rd, 2014 – July 12th, 2014 |
| Strapless | July 2nd, 2014 – July 12th, 2014 |
| The Devil's Circus | July 2nd, 2014 – July 12th, 2014 |
| Confessions of An Operatic Mute | July 2nd, 2014 – July 12th, 2014 |
| Parade | August 8th, 2013 – August 18th, 2013 |
| Peter n' Chris Explore their Bodies | July 5th, 2013 – July 13th, 2013 |
| Fear Factor: Canine Edition | July 5th, 2013 – July 13th, 2013 |
| The Soaps | July 5th, 2013 – July 14th, 2013 |
| Jem Rolls Attacks the Silence | July 4th, 2013 – July 14th, 2013 |
| Callaghan! & the Wings of a Butterfly | July 4th, 2013 – July 14th, 2013 |
| Excuse You! | July 4th, 2013 – July 14th, 2013 |
| Teach Me | July 3rd, 2013 – July 14th, 2013 |
| Mercury | July 3rd, 2013 – July 14th, 2013 |
| The Effects of Time Travel on Neurotic Homos | July 3rd, 2013 – July 13th, 2013 |
| The Bear / Lady with a Lap Dog | July 6th, 2012 – July 15th, 2012 |
| Tick | July 5th, 2012 – July 14th, 2012 |
| Life in the Raw | July 5th, 2012 – July 14th, 2012 |
| Help Yourself | July 4th, 2012 – July 15th, 2012 |
| Living with Henry | July 7th, 2011 – July 17th, 2011 |
| The Giant's Garden | July 6th, 2011 – July 16th, 2011 |
| 2-Man No-Show 2 | July 3rd, 2010 – July 11th, 2010 |
| Lifeline | July 3rd, 2010 – July 10th, 2010 |
| Dance Animal Presents: Dance Animal | July 1st, 2010 – July 11th, 2010 |
| The Whores | June 30th, 2010 – July 10th, 2010 |
| The Emergency Monologues | July 3rd, 2009 – July 11th, 2009 |
| Just East of Broadway | July 2nd, 2009 – July 11th, 2009 |
| Heartsurge | July 1st, 2009 – July 11th, 2009 |
| I Will Not Hatch | July 1st, 2009 – July 11th, 2009 |
| Take it Back | July 6th, 2008 – July 13th, 2008 |
| Singing at the Edge of the World | July 3rd, 2008 – July 12th, 2008 |
| Sara Hennessey Time | July 2nd, 2008 – July 12th, 2008 |
| The Maddest Kind of Love | July 2nd, 2008 – July 12th, 2008 |
| Geek-Gasm | July 7th, 2007 – July 15th, 2007 |
| Maxim & Cosmo | July 5th, 2007 – July 14th, 2007 |
| Dyad | July 4th, 2007 – July 14th, 2007 |
---