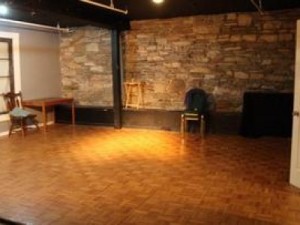 Unit 102 Theatre
Occupying company
Seating Capacity
60
Manager: Luis Fernandes
Formerly The Theatre Machine
Website
Address
376 Dufferin Street
Toronto, ON
The THEATRE STUDIO is a 60 seat 1,200 square foot, black box theatre, equipped with high quality sound and lighting.
This diverse space can accomodate a large variety of productions and rehearsals, from performance art to contemporary Theatre.
The Unit 102 Theatre also provides a box office, concession stand and two green rooms with your rental.
(unit102theatre.com)
---
Recent and Upcoming Productions
| | |
| --- | --- |
| Den of Thieves | June 16th, 2016 – June 26th, 2016 |
| The Goat or Who is Sylvia? | May 26th, 2016 – June 11th, 2016 |
| Still | March 4th, 2016 – March 13th, 2016 |
| Red Light Winter | January 8th, 2016 – January 23rd, 2016 |
| Lakeboat | October 14th, 2015 – October 31st, 2015 |
| The Last Days of Judas Iscariot | May 13th, 2015 – May 30th, 2015 |
| Crimes of the Heart | April 15th, 2015 – May 2nd, 2015 |
| Becky Shaw | February 20th, 2015 – March 7th, 2015 |
| Hamlet | January 21st, 2015 – February 7th, 2015 |
| Lobby Hero | October 22nd, 2014 – November 8th, 2014 |
| Love & Human Remains | May 21st, 2014 – June 7th, 2015 |
| The Memo | April 23rd, 2014 – May 10th, 2014 |
| Theatre on a Theme: Love | March 1st, 2014 |
| Theatre on a Theme: Failure | October 18th, 2013 – October 18th, 2013 |
| Life x3 | May 2nd, 2013 – May 11th, 2013 |
| The Anger in Ernest & Ernestine | November 6th, 2012 – November 24th, 2012 |
| Pieces | May 24th, 2012 – June 10th, 2012 |
| Unspoken | May 7th, 2012 – May 13th, 2012 |
| The Lost Sagas of Tjorvi the Flaccid | March 1st, 2012 – March 10th, 2012 |
| Pains of Youth | September 7th, 2011 – September 17th, 2011 |
| Crookback: An Adaptation of Richard III | May 5th, 2011 – May 15th, 2011 |
| Red Light Winter | February 23rd, 2011 – February 26th, 2011 |
Current Staff
---