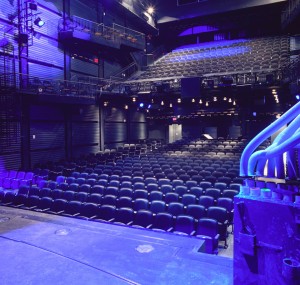 CAA Theatre
Occupying company
Seating Capacity
700
Address
651 Yonge Street
Toronto, Ontario
The site of the CAA Theatre (formerly known as the Panasonic Theatre) has a long history in Toronto entertainment. Originally a private residence, built in 1911, it became a theatre – a cinema, called "The Victory" – in 1919. It changed its name in 1934 to "The Embassy" and, in the years since, has been known as "The Astor", "The Showcase" and "The Festival" (as which it was the premier venue of the Toronto International Film Festival in the 1970s). The Festival became a legitimate theatre in 1993 when it was renovated, renamed "The New Yorker Theatre" and re-opened with the off-Broadway production of Forever Plaid.
In 2004/2005, the original building was demolished (only its facade preserved) and rebuilt, from the ground up, as a new, state-of-the-art live theatre and concert venue. It re-opened as "The Panasonic Theatre" in June, 2005, under the ownership of Live Nation. A new partnership between CAA and Mirvish Productions was formed on December 1, 2018 to include renaming the theatre the CAA.
In January, 2008, the theatre was purchased – along with the nearby Canon Theatre and other Live Nation properties – by the company Key Brand Entertainment. Mirvish Productions announced on August 26, 2008, that it had completed the purchase of both the Panasonic and the Canon Theatre from Key Brand.
At 651 Yonge St., just south of Bloor St., the CAA Theatre (formerly known as the Panasonic) is in the heart of downtown Toronto, within walking distance of the boutiques and galleries of Yorkville, the fashionable shopping of Bloor West and Church Street, the Royal Ontario Museum and the campus of University of Toronto. (mirvish.com)
---
Recent and Upcoming Productions
| | |
| --- | --- |
| Things I Know to be True | February 1st, 2023 – February 19th, 2023 |
| Indecent | October 14th, 2022 – November 6th, 2022 |
| Piaf/Dietrich | September 17th, 2019 – January 5th, 2020 |
| Oslo | February 9th, 2019 – March 3rd, 2019 |
| Bigmouth | January 19th, 2019 – February 7th, 2019 |
| Potted Potter: The Unauthorized Harry Experience – A Parody by Dan and Jeff | June 13th, 2018 – July 22nd, 2018 |
| Fun Home | April 13th, 2018 – May 20th, 2018 |
| King Charles III | February 10th, 2018 – March 4th, 2018 |
| Salt-Water Moon | October 12th, 2017 – October 29th, 2017 |
| Butcher | March 25th, 2017 – April 9th, 2017 |
| My Night With Reg | February 10th, 2017 – February 26th, 2017 |
| Fight Night | November 4th, 2016 – November 20th, 2016 |
| Graeme of Thrones | October 11th, 2016 – October 23rd, 2016 |
| Disgraced | April 3rd, 2016 – April 24th, 2016 |
| Seminar | November 14th, 2015 – December 6th, 2015 |
| Vanya and Sonia and Masha and Spike | March 15th, 2015 – April 5th, 2015 |
| Cannibal! The Musical | February 10th, 2015 – March 1st, 2015 |
| Buyer & Cellar | November 12th, 2014 – November 30th, 2014 |
| The Boy with Tape on his Face | October 1st, 2014 – October 19th, 2014 |
| Julie Madly Deeply | September 30th, 2014 – October 19th, 2014 |
| Dead Metaphor | May 20th, 2014 – June 8th, 2014 |
| The Musical of Musicals: The Musical! | December 18th, 2013 – January 12th, 2014 |
| God of Carnage | November 23rd, 2013 – December 15th, 2013 |
| Puppet Up! – Uncensored | October 22nd, 2013 – November 3rd, 2013 |
| Dancing With Rage | March 5th, 2013 – March 24th, 2013 |
| Clybourne Park | February 12th, 2013 – March 3rd, 2013 |
| Without You | December 13th, 2012 – January 6th, 2013 |
| Spank: The Fifty Shades Parody | November 14th, 2012 – November 18th, 2012 |
| Bloodless: The Trial of Burke and Hare | October 9th, 2012 – October 28th, 2012 |
| Potted Potter | February 14th, 2012 – April 8th, 2012 |
| 2 Pianos 4 Hands | October 29th, 2011 – January 5th, 2012 |
| Ghost Stories | April 1st, 2011 – May 29th, 2011 |
| Wingfield Lost & Found | January 12th, 2011 – January 30th, 2011 |
| A Jew Grows In Brooklyn | April 28th, 2010 – May 16th, 2010 |
| Cloud 9 | January 19th, 2010 – February 21st, 2010 |
| My Mother's Lesbian Jewish Wiccan Wedding | November 7th, 2009 – April 11th, 2009 |
| We Will Rock You | July 16th, 2008 – June 28th, 2009 |
Current Staff
---