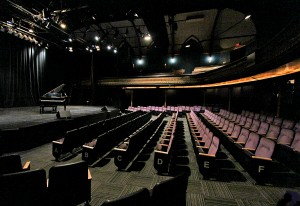 The Randolph Theatre
Seating Capacity
518
Address
736 Bathurst Street
Toronto, Ontario
M5S 2R4
Seating capacity is 518; 263 on the main floor and 255 in the balcony.
The theatre has a barrel vault ceiling rising to over 40. Stage depth 31, useable width 42. The grid is suspended at 20(+/- 12) above stage. The maximum distributed load on the grid is not to exceed 7900 lbs. Travellers for cyc and velours are installed upstage and midstage. Some velour legs are available in black and red.
The concession is located at the back of house left.
Public washrooms are in the basement, front of house right.
Dressing room and green room facilities are backstage right. There is out-of-house crossover with entrances backstage right, center and left, and both sides at balcony level.
http://www.randolphacademy.com/facilities-and-rentals/bathurst-street-theatre
---
Recent and Upcoming Productions
| | |
| --- | --- |
| Dandelion | July 5th, 2019 – July 13th, 2019 |
| Decaying Tongue | July 5th, 2019 – July 14th, 2019 |
| Into the Tango | July 5th, 2019 – July 14th, 2019 |
| Ghosted: The Musical | July 4th, 2019 – July 14th, 2019 |
| The Resistance Improvised | July 4th, 2019 – July 14th, 2019 |
| Pack Animals | July 4th, 2019 – July 13th, 2019 |
| Comedy Records Presents: Jay & Eytan | July 3rd, 2019 – July 13th, 2019 |
| i feel you | July 3rd, 2019 – July 13th, 2019 |
| Be Kind, Rewind | July 3rd, 2019 – July 14th, 2019 |
| Morning Buzz Live! | July 6th, 2018 – July 15th, 2018 |
| One Left Hour: The Life and Work of Daniil Kharms | July 6th, 2018 – July 14th, 2018 |
| Under the Knife | July 6th, 2018 – July 14th, 2018 |
| The Pansy Craze: A New Musical | July 6th, 2018 – July 15th, 2018 |
| Geek! | July 5th, 2018 – May 15th, 2018 |
| La Femme Kabarett | July 5th, 2018 – July 15th, 2018 |
| High School Symphony | July 5th, 2018 – July 14th, 2018 |
| Space Hippo | July 4th, 2018 – July 14th, 2018 |
| One Small Step | July 4th, 2018 – July 15th, 2018 |
| Josephine, A Burlesque Cabaret Dream Play | July 4th, 2018 – July 14th, 2018 |
| Seeking Refuge | July 7th, 2017 – July 16th, 2017 |
| Universal Horrors | July 7th, 2017 – July 16th, 2017 |
| The Fateful Agenda | July 7th, 2017 – July 15th, 2017 |
| Everything There Is to Know | July 7th, 2017 – July 15th, 2017 |
| Picaza | July 7th, 2017 – July 16th, 2017 |
| True North Mixtape | July 6th, 2017 – July 16th, 2017 |
| 6 Quick Dick Tricks: A Dirk Darrow Investigation | July 6th, 2017 – July 16th, 2017 |
| Rough Magic | July 5th, 2017 – July 15th, 2017 |
| The Resurrectionists | July 5th, 2017 – July 15th, 2017 |
| Lipstique | July 5th, 2017 – July 15th, 2017 |
| Wasteland | July 1st, 2016 – July 9th, 2016 |
| Romeo & Juliet Chainsaw Massacre | July 1st, 2016 – July 10th, 2016 |
| Promise and Promiscuity: A New Musical | July 1st, 2016 – July 9th, 2016 |
| Rated R | July 1st, 2016 – July 10th, 2016 |
| Weird: The Witches of Macbeth | June 30th, 2016 – July 9th, 2016 |
| Evolution / Mr. Truth | June 30th, 2016 – July 10th, 2016 |
| Next Thing You Know | June 30th, 2016 – July 9th, 2016 |
| (in)decision | June 29th, 2016 – July 10th, 2016 |
| Songbuster – An Improvised Musical | June 29th, 2016 – July 10th, 2016 |
| The Fence | June 29th, 2016 – July 9th, 2016 |
| Peter n' Chris present: Here Lies Chris | July 3rd, 2015 – July 11th, 2015 |
| Kojira | July 3rd, 2015 – July 12th, 2015 |
| Everyone Loves Sealand | July 3rd, 2015 – July 12th, 2015 |
| For Body And Light Presents: Coming And Going | July 3rd, 2015 – July 11th, 2015 |
| Heart Puppetations | July 2nd, 2015 – July 11th, 2015 |
| High Tea | July 2nd, 2015 – July 12th, 2015 |
| Fool's Gold | July 2nd, 2015 – July 12th, 2015 |
| People Suck | July 1st, 2015 – July 11th, 2015 |
| Johnny Legdick, A Rock Opera | July 1st, 2015 – July 10th, 2015 |
| Duotang Chesterfield's Mystery Theatre Live | July 1st, 2015 – July 12th, 2015 |
| Hair | August 28th, 2014 – September 20th, 2014 |
| Off Canvas (Remounted) | July 4th, 2014 – July 13th, 2014 |
| Gunshot | July 4th, 2014 – July 12th, 2014 |
| You Detective | July 4th, 2014 – July 13th, 2014 |
| Hugh and I | July 3rd, 2014 – July 13th, 2014 |
| A Bicycle Built for Two | July 3rd, 2014 – July 12th, 2014 |
| Fantastic Extravagance | July 3rd, 2014 – July 13th, 2014 |
| Mute: A Musical Against Bullying | July 2nd, 2014 – July 12th, 2014 |
| Dr. Frightful Presents: Dead Air | July 2nd, 2014 – July 13th, 2014 |
| Peter 'N Chris And The Kinda Ok Corral | July 2nd, 2014 – July 12th, 2014 |
| The Common Ground: A Musical Dissertation | July 2nd, 2014 – July 13th, 2014 |
| Shrek: The Musical | October 27th, 2013 – October 19th, 2013 |
| Evil Dead: The Musical | October 24th, 2013 – December 22nd, 2013 |
| Jack Your Body | July 5th, 2013 – July 13th, 2013 |
| No Permanent Answers | July 5th, 2013 – July 14th, 2013 |
| Killcreek | July 5th, 2013 – July 14th, 2013 |
| Fracture | July 5th, 2013 – July 14th, 2013 |
| Nobody's Idol | July 4th, 2013 – July 13th, 2013 |
| MSM [Men Seeking Men] | July 4th, 2013 – July 13th, 2013 |
| 2 for Tea | July 4th, 2013 – July 13th, 2013 |
| This Play is Like ______ | July 3rd, 2013 – July 13th, 2013 |
| Here | July 3rd, 2013 – July 14th, 2013 |
| One Side of an Ampersand | July 3rd, 2013 – July 14th, 2013 |
| One in a Million (a micromusical) | July 6th, 2012 – July 15th, 2012 |
| U.S. Drag | July 5th, 2012 – July 14th, 2012 |
| Antigone | July 4th, 2012 – July 15th, 2012 |
| Mum & the Big C | July 4th, 2012 – July 14th, 2012 |
| The Princess of Porn: The Musical | July 4th, 2012 – July 14th, 2012 |
| Zero Hour | February 8th, 2012 – February 10th, 2012 |
| Hypnogogic Logic | July 8th, 2011 – July 15th, 2011 |
| The Soaps | July 8th, 2011 – July 17th, 2011 |
| She Said What Happened | July 7th, 2011 – July 16th, 2011 |
| Kim's Convenience | July 6th, 2011 – July 17th, 2011 |
| Rent | June 14th, 2011 – June 18th, 2011 |
| Both Sides Now | May 1st, 2011 |
| Seven of Us | July 1st, 2010 – July 10th, 2010 |
| Joe White and the Seven Divorcees | June 30th, 2010 – July 10th, 2010 |
| Reflections on Giving Birth to a Squid | July 3rd, 2009 – July 11th, 2009 |
---