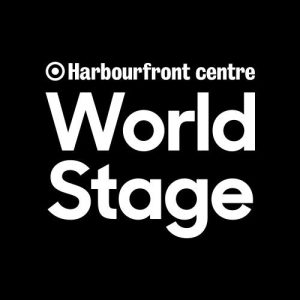 World Stage
Over a rich 27-year history, World Stage has been committed to building culture through the exchange of ideas, offering patrons a portal into the current state of international contemporary performance. With a bold curatorial vision and highly subsidized ticketing structure, World Stage brings some of the most innovative and boundary-pushing performance leaders from around the world to share and develop contemporary viewpoints with Toronto audiences.
Beyond this, Harbourfront Centre has worked hard to ensure not only that the best of the world comes to Toronto, but that Toronto sees itself reflected in the World Stage programming. Central to the World Stage vision is the juxtaposition of international, national and local creations, providing Canadian artists with resources, venues and exchange opportunities.
Along with a commitment to artistic development, audience development is also at the heart of programming. The season always includes an array of extras to ensure the delivery of a more textured performance experience. From the speakeasies and cabarets to poster exhibitions and film screenings of past years, this year's post-performance talkshows, opening night receptions, and artist development workshops are no exception.
The world awaits.
(harbourfroncentre.com)
Website
https://www.facebook.com/WorldStageTO/
---
Produced by World Stage
Presented by World Stage
| | |
| --- | --- |
| Looking for Paul: Inez van Dam vs. the Buttplug Gnome | April 26th, 2016 – April 30th, 2016 |
| Straight White Men | June 3rd, 2015 – June 6th, 2015 |
| All Our Happy Days Are Stupid | February 11th, 2015 – February 14th, 2015 |
| The Speedy | May 15th, 2014 – May 18th, 2014 |
| Mies Julie | May 6th, 2014 – May 10th, 2014 |
| Conte d'amour | April 1st, 2014 – April 5th, 2014 |
| Untitled Feminist Show | February 12th, 2014 – February 15th, 2014 |
| Lear | March 5th, 2013 – March 10th, 2013 |
| The Shipment | May 9th, 2012 – May 12th, 2012 |
| Ajax & Little Iliad | April 4th, 2012 – April 8th, 2012 |
| The Wooster Group's Version of Tennessee Williams' Vieux Carré | March 28th, 2012 – March 31st, 2012 |
| The War of the Worlds | March 31st, 2011 – April 3rd, 2011 |
| Questo Buio Feroce (The Wild Darkness) | January 26th, 2011 – January 29th, 2011 |
| PHOTOG | November 17th, 2010 – November 20th, 2010 |
| Do Animals Cry | March 3rd, 2010 – March 6th, 2010 |
| Once and for all we're gonna tell you who we are so shut up and listen | February 16th, 2010 – February 20th, 2010 |
| To Be Straight with You | December 2nd, 2009 – December 5th, 2009 |
| Hamlet | November 19th, 2009 – November 29th, 2009 |
| The Walworth Farce | October 6th, 2009 – October 10th, 2009 |
| The Cleansing of Constance Brown | May 5th, 2009 – May 9th, 2009 |
| Blind Date | March 3rd, 2009 – March 7th, 2009 |
| Tshepang | February 18th, 2009 – February 21st, 2009 |
| Shakuntala | February 4th, 2009 – February 15th, 2009 |
| Hospitality 3: Individualism Was a Mistake | November 19th, 2008 – November 22nd, 2008 |
| Damascus | April 22nd, 2008 – April 26th, 2008 |
| Sizwe Banzi is Dead | April 18th, 2007 – April 22nd, 2007 |
| Revisited | April 4th, 2007 – April 19th, 2007 |
| Particularly in the Heartland | March 28th, 2007 – April 1st, 2007 |
| Mabou Mines DollHouse | January 24th, 2007 – February 4th, 2007 |
---