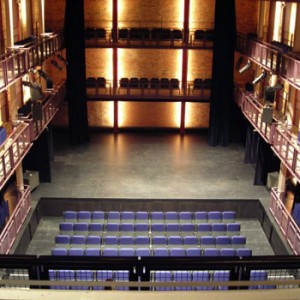 Harbourfront Centre Theatre
Seating Capacity
350 (theatre-style); 422 (full-round)
Website
http://www.harbourfrontcentre.com/venues/theatre/
Address
231 Queen's Quay West
Toronto, Ontario
M5J 2G8
The Harbourfront Centre Theatre (formerly Enwave Theatre)  is a multi-use venue ideal for music, dance, and theatre presentations. The theatre can be transformed into various seating configurations, from a 350-seat proscenium set-up to a maximum in-the-round capacity of 422 seats. It has two balcony levels and three lobbies.
The Harbourfront Centre The is most often used for dance, theatre or music performances, and is usually rented by the week, generally six months to a year in advance.
During an essential retrofit of the Enwave Theatre's glass roof and curtain walls, Harbourfront Centre partnered with Enwave to find a cutting-edge solution that would improve the thermal performance of the theatre by preventing leakage and heat loss/gain. As a central part of the retrofit, Enwave funded an arts initiative, commissioning Canadian artist Sarah Hall to create a permanent, large scale solar glass art installation titled Waterglass.
http://www.harbourfrontcentre.com/whoweare/venuerentals/enwave.cfm
---
Recent and Upcoming Productions
| | |
| --- | --- |
| The Ballad of Johnny Longstaff | November 16th, 2022 – November 27th, 2022 |
| The Solitudes | January 7th, 2020 – January 18th, 2020 |
| Asheq: Ritual Music to Cure a Lover (A Prequel) | December 5th, 2018 – December 8th, 2018 |
| Goldilocks Goes Bear Hunting | May 23rd, 2018 – August 25th, 2018 |
| New Owner | May 19th, 2018 – May 21st, 2018 |
| The Jury | May 19th, 2018 – May 22nd, 2018 |
| Lear | January 9th, 2018 – January 28th, 2018 |
| Raging Dreams: Into the Visceral | May 5th, 2017 – May 6th, 2017 |
| Looking for Paul: Inez van Dam vs. the Buttplug Gnome | April 26th, 2016 – April 30th, 2016 |
| Nirbhaya | November 18th, 2015 – November 29th, 2015 |
| Who Killed Spalding Gray | June 20th, 2015 – June 21st, 2015 |
| The Cardinals | February 12th, 2015 – February 15th, 2015 |
| All Our Happy Days Are Stupid | February 11th, 2015 – February 14th, 2015 |
| The Speedy | May 15th, 2014 – May 18th, 2014 |
| Mies Julie | May 6th, 2014 – May 10th, 2014 |
| The Shipment | May 9th, 2012 – May 12th, 2012 |
| Ajax & Little Iliad | April 4th, 2012 – April 8th, 2012 |
| Enter the Shadow: The Life of a B-Boy | November 24th, 2011 – November 27th, 2011 |
| 'da Kink in my Hair | August 11th, 2011 – August 21st, 2011 |
| The War of the Worlds | March 31st, 2011 – April 3rd, 2011 |
| PHOTOG | November 17th, 2010 – November 20th, 2010 |
| Once and for all we're gonna tell you who we are so shut up and listen | February 16th, 2010 – February 20th, 2010 |
| Hamlet | November 19th, 2009 – November 29th, 2009 |
| The Cleansing of Constance Brown | May 5th, 2009 – May 9th, 2009 |
| AfterImage | April 16th, 2009 – April 26th, 2009 |
| Hospitality 3: Individualism Was a Mistake | November 19th, 2008 – November 22nd, 2008 |
| Damascus | April 22nd, 2008 – April 26th, 2008 |
| Jamaica, Farewell | January 25th, 2008 – January 27th, 2008 |
| Raging Dreams – Into the Visceral | November 6th, 2007 – November 10th, 2007 |
| Sizwe Banzi is Dead | April 18th, 2007 – April 22nd, 2007 |
| Particularly in the Heartland | March 28th, 2007 – April 1st, 2007 |
| Mabou Mines DollHouse | January 24th, 2007 – February 4th, 2007 |
| Echoes and Shavings of Yiddishland | September 2nd, 2006 – September 3rd, 2006 |
| I Am NOT a Dinner Mint | July 22nd, 2006 – July 30th, 2006 |
| Fool for Love | August 4th, 2005 – October 1st, 2005 |
| The Wild Duck | July 20th, 2005 – September 3rd, 2005 |
---