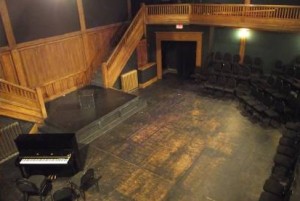 The Annex Theatre
Seating Capacity
100
Address
736 Bathurst Street
Toronto, Ontario
M5S 2R4
The Box Office and theatre entrance are from Bathurst Street, on the South of the building, only open when a production is in progress.
Ceiling height 31. Lighting pipes are mounted on the walls at balcony and upper levels.
Public washrooms are at the back of House Left.
Dressing Room facilities are at balcony level, stage right.
There is out-of-house crossover with entrances backstage right and left, both sides at balcony level, and from the back of the house.
http://www.randolphacademy.com/facilities-and-rentals/annex-theatre
---
Recent and Upcoming Productions
| | |
| --- | --- |
| Cinderella | December 14th, 2019 – January 5th, 2020 |
| The Art Of Kneading | July 5th, 2019 – July 14th, 2019 |
| It's Getting Hot in Here! | July 5th, 2019 – July 14th, 2019 |
| King Stag | July 5th, 2019 – July 14th, 2019 |
| LIGHTS! CAMERA! ODD JOBS? | July 4th, 2019 – July 13th, 2019 |
| News Play | July 4th, 2019 – July 13th, 2019 |
| Elbow Room | July 4th, 2019 – July 14th, 2019 |
| The Peers | July 3rd, 2019 – July 13th, 2019 |
| Horseface | July 3rd, 2019 – July 14th, 2019 |
| Omen: The Musical | July 3rd, 2019 – July 13th, 2019 |
| Dominion | July 6th, 2018 – July 14th, 2018 |
| PRTNR | July 6th, 2018 – July 14th, 2018 |
| Wounds To The Face | July 6th, 2018 – July 15th, 2018 |
| Circus Shop of Horrors | July 6th, 2018 – July 14th, 2018 |
| Aspergers: More Tales of a Social Misfit | July 5th, 2018 – July 14th, 2018 |
| Be a Good Girl | July 5th, 2018 – July 14th, 2018 |
| BikeFace | July 5th, 2018 – July 15th, 2018 |
| A Kev 'n Cal Mystery | July 4th, 2018 – July 15th, 2018 |
| #KanderAndEbb | July 4th, 2018 – July 15th, 2018 |
| Bro Diaries | July 4th, 2018 – July 15th, 2018 |
| Bad Baby Presents: Rules Control the Fun | July 7th, 2017 – July 16th, 2017 |
| Love and Information | July 7th, 2017 – July 15th, 2017 |
| Murder in the Cottonwoods | July 7th, 2017 – July 15th, 2017 |
| The Miserable Worm | July 7th, 2017 – July 16th, 2017 |
| Becoming Me | July 6th, 2017 – July 16th, 2017 |
| Shadowlands | July 6th, 2017 – July 16th, 2017 |
| Singing to My Left Kidney | July 6th, 2017 – July 16th, 2017 |
| In Search of Cruise Control | July 5th, 2017 – July 15th, 2017 |
| Nasty | July 5th, 2017 – July 15th, 2017 |
| Show Your Flames | July 5th, 2017 – July 15th, 2017 |
| #MannequinGirl: The Musical | July 1st, 2016 – July 9th, 2016 |
| Tonight's Cancelled | July 1st, 2016 – July 9th, 2016 |
| Denmarked | July 1st, 2016 – July 9th, 2016 |
| Alpha Delta 86 | July 1st, 2016 – July 10th, 2016 |
| Blind to Happiness | June 30th, 2016 – July 9th, 2016 |
| (un)boxed | June 30th, 2016 – July 10th, 2016 |
| Women | June 30th, 2016 – July 9th, 2016 |
| The End | June 29th, 2016 – July 10th, 2016 |
| A Glass Hive, AKA The Comedy of Errors | June 29th, 2016 – July 10th, 2016 |
| Sext | June 29th, 2016 – July 10th, 2016 |
| The Cruelest Phone Book in the World | July 3rd, 2015 – July 11th, 2015 |
| Heartbeat and Other Ways To Say I Love You | July 3rd, 2015 – July 11th, 2015 |
| Adventures of a Redheaded Coffeeshop Girl | July 3rd, 2015 – July 12th, 2015 |
| Starry Notions | July 3rd, 2015 – July 11th, 2015 |
| Meet Cute | July 2nd, 2015 – July 11th, 2015 |
| Lockeye & Pond in Death Killing Machine | July 2nd, 2015 – July 12th, 2015 |
| The Philanderess | July 2nd, 2015 – July 12th, 2015 |
| Gavin Crawford: "Friend" "Like" #Me | July 1st, 2015 – July 9th, 2015 |
| Big Love | July 1st, 2015 – July 12th, 2015 |
| The Woolgatherer | July 1st, 2015 – July 12th, 2015 |
| Gingers in Love | April 23rd, 2015 – April 25th, 2015 |
| About Allegra | July 4th, 2014 – July 12th, 2014 |
| Slut | July 4th, 2014 – July 12th, 2014 |
| Sperm Wars | July 4th, 2014 – July 12th, 2014 |
| Summer Hot, Summer Are Not | July 4th, 2014 – July 13th, 2014 |
| Confessions of a Redheaded Coffeeshop Girl | July 3rd, 2014 – July 13th, 2014 |
| Salvador | July 3rd, 2014 – July 13th, 2014 |
| She's Black, He's jewish, They're married, Oy Vey! | July 3rd, 2014 – July 12th, 2014 |
| Euripides' The Trojan Women | July 2nd, 2014 – July 13th, 2014 |
| Tikva's Orchestra | July 2nd, 2014 – July 11th, 2014 |
| Three Men in a Boat | July 2nd, 2014 – July 13th, 2014 |
| A One Night Stand With Shaw | April 18th, 2014 – April 26th, 2014 |
| The Killing Game | October 14th, 2013 – October 18th, 2013 |
| Liza Live! | July 8th, 2013 – July 13th, 2013 |
| The Very Very Girl | July 5th, 2013 – July 13th, 2013 |
| Trip | July 5th, 2013 – July 13th, 2013 |
| Offensive to Some | July 5th, 2013 – July 14th, 2013 |
| Everything I Need | July 5th, 2013 – July 13th, 2013 |
| The Prettiest Little Theatre North of San Francisco | July 4th, 2013 – July 14th, 2013 |
| The Homemaker | July 4th, 2013 – July 11th, 2013 |
| The Final Trick of a Shoddy Magician | July 3rd, 2013 – July 14th, 2013 |
| I Hired a Contract Killer | July 3rd, 2013 – July 14th, 2013 |
| Give Up the Ghost | July 3rd, 2013 – July 13th, 2013 |
| Blood Ties | June 20th, 2013 |
| A Funeral for Clowns | July 6th, 2012 – July 15th, 2012 |
| The House of Bernarda Alba | July 4th, 2012 – July 15th, 2012 |
| Matt and Ben | November 16th, 2011 – November 26th, 2011 |
| Infinitum | July 7th, 2011 – July 17th, 2011 |
| Mute | July 6th, 2011 – July 17th, 2011 |
| Killing Game | June 30th, 2010 – July 11th, 2010 |
---