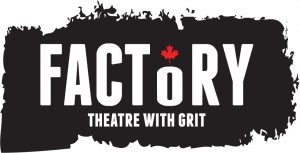 Factory Theatre
Established
1970
Artistic Director: Nina Lee Aquino
Managing Director: Jonathan Heppner
For over four decades, Factory Theatre has developed and produced some of the finest theatrical works in our national canon and been home to some of the most gifted and prolific playwrights in our country.
In any given year, more than 50,000 patrons come to Factory's historic Victorian mansion at the corner of Bathurst and Adelaide Streets (in the heart of Toronto's cultural west-end district) – an inviting, inclusive environment where ideas and imagination intersect.
Factory Theatre is unique in that it is committed solely to the development and production of Canadian plays through staged readings, workshops, Natural Resources (resident creation groups), writers' retreats, residencies, Factory Wired (festivals of new work in progress), and ultimately premiere productions.
The Factory Theatre play development program is committed to the long-term investment of playwrights and creators and Canadian work that celebrates our diversity by engaging, provoking, entertaining, and inspiring our artists, audience and the community at large.
Factory is not only "the home of the Canadian playwright" but is dedicated to serving our community by building a strong neighbourhood identity in our role as a cultural hub. Partnerships with local schools and businesses and initiatives, such as our Neighbours Nights and Curtain Raiser events, are what ground us as a remarkable artistic resource and cultural institution.
(factorytheatre.ca)
Website
Venues
Factory Theatre Antechamber
Factory Studio Theatre
Factory Mainspace Theatre

---
Produced by Factory Theatre
| | |
| --- | --- |
| Armadillos | June 3rd, 2023 – June 24th, 2023 |
| Vierge | April 8th, 2023 – April 30th, 2023 |
| The Waltz | October 22nd, 2022 – November 13th, 2022 |
| Trojan Girls & The Outhouse of Atreus | August 3rd, 2022 – August 28th, 2022 |
| among men | April 23rd, 2022 – May 15th, 2022 |
| Lady Sunrise | February 15th, 2020 – March 8th, 2020 |
| Trout Stanley | October 19th, 2019 – November 10th, 2019 |
| Beautiful Man | May 4th, 2019 – May 26th, 2019 |
| The Men in White | October 13th, 2018 – November 4th, 2018 |
| Prairie Nurse | April 26th, 2018 – May 13th, 2018 |
| The Monument | March 10th, 2018 – April 1st, 2018 |
| After Wrestling | March 1st, 2018 – March 18th, 2018 |
| Bang Bang | January 27th, 2018 – February 18th, 2018 |
| trace | November 11th, 2017 – December 5th, 2017 |
| Salt-Water Moon | October 12th, 2017 – October 29th, 2017 |
| Banana Boys | April 18th, 2017 – May 14th, 2017 |
| Little Pretty and The Exceptional | April 1st, 2017 – April 30th, 2017 |
| Enchanted Loom | November 10th, 2016 – November 27th, 2016 |
| acquiesce | November 3rd, 2016 – November 27th, 2016 |
| The Crackwalker | March 22nd, 2016 – April 10th, 2016 |
| A Line In The Sand | March 8th, 2016 – March 27th, 2016 |
| Salt-Water Moon | February 23rd, 2016 – March 13th, 2016 |
| Bombay Black | November 17th, 2015 – December 6th, 2015 |
| Banana Boys | November 3rd, 2015 – November 22nd, 2015 |
| Age of Arousal | October 20th, 2015 – November 8th, 2015 |
| The Unplugging | March 14th, 2015 – April 5th, 2015 |
| Take Me Back to Jefferson | November 5th, 2014 – November 23rd, 2014 |
| The Art of Building a Bunker | October 11th, 2014 – November 2nd, 2014 |
| Bingo! | May 3rd, 2014 – June 1st, 2014 |
| Beatrice & Virgil | April 12th, 2014 – May 11th, 2014 |
| 6 Essential Questions | March 1st, 2014 – March 30th, 2014 |
| The Gravitational Pull of Bernice Trimble | November 2nd, 2013 – December 1st, 2013 |
| Stopheart | May 9th, 2013 – May 26th, 2013 |
| Iceland | March 2nd, 2013 – March 24th, 2013 |
| Do You Want What I Have Got? A Craigslist Cantata | February 7th, 2013 – March 3rd, 2013 |
| Every Letter Counts | January 26th, 2013 – February 24th, 2013 |
| Penny Plain | January 24th, 2012 – February 26th, 2012 |
| The Rez Sisters | November 5th, 2011 – December 11th, 2011 |
| His Greatness | September 22nd, 2011 – October 23rd, 2011 |
| Zadie's Shoes | April 30th, 2011 – June 5th, 2011 |
| Brothel #9 | February 26th, 2011 – March 27th, 2011 |
| Billy Twinkle: Requiem for a Golden Boy | September 28th, 2010 – October 24th, 2010 |
| Featuring Loretta | May 1st, 2010 – June 27th, 2010 |
| And So It Goes | January 30th, 2010 – February 28th, 2010 |
| The Madonna Painter | November 14th, 2009 – December 13th, 2009 |
| True Love Lies | September 26th, 2009 – November 1st, 2009 |
| The Madness of the Square | April 16th, 2009 – May 3rd, 2009 |
| Missing | March 8th, 2009 – April 5th, 2009 |
| Toronto The Good | January 31st, 2009 – March 1st, 2009 |
| Scratch | October 4th, 2008 – November 2nd, 2008 |
| Beyond Mozambique | April 3rd, 2008 – May 4th, 2008 |
| The Mansfield Project | March 15th, 2008 – April 13th, 2008 |
| Age of Arousal | November 17th, 2007 – December 17th, 2007 |
| Better Living | May 1st, 2007 – July 1st, 2008 |
| Singkil | January 6th, 2007 – January 28th, 2007 |
| Apple | October 14th, 2006 – November 12th, 2006 |
| Escape from Happiness | March 25th, 2006 – May 21st, 2006 |
| The Real McCoy | January 28th, 2006 – February 26th, 2006 |
Presented by Factory Theatre
| | |
| --- | --- |
| Between Breaths | November 20th, 2019 – December 8th, 2019 |
| Broken Tailbone | October 2nd, 2019 – October 13th, 2019 |
| The Fish Eyes Trilogy | September 28th, 2017 – October 15th, 2017 |
| Empire of the Son | January 18th, 2017 – January 29th, 2017 |
| Morro & Jasp 9 – 5 | May 12th, 2015 – May 31st, 2015 |
| The Daisy Theatre | March 18th, 2015 – April 5th, 2015 |
| How to Disappear Completely | June 8th, 2012 – June 13th, 2012 |
| Oil and Water | April 18th, 2012 – May 6th, 2012 |
| Hardsell | October 13th, 2011 – October 23rd, 2011 |
| Bigger Than Jesus | September 29th, 2011 – October 9th, 2011 |
| MacHomer | September 13th, 2011 – September 25th, 2011 |
| Jake's Gift | April 19th, 2011 – April 24th, 2011 |
| Night | April 13th, 2011 – April 24th, 2011 |
| Still Here | April 7th, 2011 – April 17th, 2011 |
| Ali & Ali: The Deportation Hearings | September 28th, 2010 – October 17th, 2010 |
| A Fabulous Disaster | April 21st, 2010 – April 25th, 2010 |
| Where the Blood Mixes | April 7th, 2010 – April 18th, 2010 |
| Grimm Too | February 23rd, 2010 – February 21st, 2010 |
| Dance Party of Newfoundland | May 21st, 2009 – May 24th, 2009 |
| Fear of Flight | May 13th, 2009 – May 24th, 2015 |
| as it is | May 13th, 2009 – May 24th, 2009 |
| Pyaasa | May 12th, 2009 – May 17th, 2009 |
| Essay | January 22nd, 2008 – February 17th, 2008 |
| The Russian Play | January 22nd, 2008 – February 17th, 2008 |
Current Staff
---