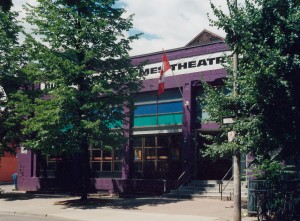 The Alexander Street Chamber Theatre
Occupying company
Address
12 Alexander St.
Toronto, Ontario
M4Y 1B4
12 Alexander Street has fulfilled many functions.  Built at the turn of the century, it was originally a commercial space that, over time, has served as a mechanic's garage, a hardware store, a car showroom, and a rehearsal hall. It has also sat vacant on more than one occasion. Since the 1960's, it has served as an alternative performance venue, giving birth of some of Toronto's most important independent theatre.
For nearly twenty years, 12 Alexander Street was home to the venerable Toronto Workshop Productions (TWP), one of Toronto's first experimental theatre troupes. The company completed renovations of the building in December 1967, turning it into an intimate theatre with a capacity of 285 seats. Tragically, 12 Alexander Street was seriously damaged by fire in 1974. Starting in the back of the theatre, TWP's dressing rooms, costume shop, stage, and lighting equipment were destroyed. Although only a lease-holder on the property, TWP raised the funds to pay for repairs to the building and equipment.
In 1977, TWP's lease on 12 Alexander expired and the future of the building as a theatre was in jeopardy. However, a public relations campaign led by the company persuaded the City of Toronto to disallow commercial development. The Ontario Government backed an interest-free mortgage, allowing the company to buy the space.
In 1988, TWP disbanded and for the next 3 years, 12 Alexander Street lay dormant and the City of Toronto took possession of the property. In 1991, the municipal government announced a competition for theatre companies to gain a 40-year lease of the building. Buddies in Bad Times Theatre put together a proposal in which a collective of local alternative theatre companies (including DNA Theatre, The Augusta Company, Platform Nine Theatre, and Native Earth Performing Arts) would share the space, with Buddies as the primary resident. In the fall of 1992, the collective was awarded the space, but by that point the other companies had moved on and Buddies became the sole resident of 12 Alexander Street. After an extensive fundraising campaign that saw the community come together to create a permanent home for queer theatre in Toronto, 12 Alexander Street reopened as the new home of Buddies in Bad Times Theatre in 1994. Since then, Buddies has gone on to gain a reputation as the world's largest and longest-running queer theatre and is an important aspect of what makes Toronto one of the most liberal and accepting cities in the world.
---
Recent and Upcoming Productions
| | |
| --- | --- |
| Angels in America | November 23rd, 2023 – December 17th, 2023 |
| Bremen Town | October 19th, 2023 – October 29th, 2023 |
| Body So Fluorescent | April 13th, 2023 – April 23rd, 2023 |
| The Man That Got Away (A Special Appearance) | December 10th, 2022 – December 18th, 2022 |
| Zom-Fam | November 3rd, 2022 – November 6th, 2022 |
| The First Stone | October 6th, 2022 – October 23rd, 2022 |
| Box 4901 | February 27th, 2020 – March 8th, 2020 |
| Pass Over | October 22nd, 2019 – November 10th, 2019 |
| Lilies; Or, The Revival of a Romantic Drama | May 4th, 2019 – May 26th, 2019 |
| Shove It Down My Throat | March 30th, 2019 – April 14th, 2019 |
| School Girls; Or, The African Mean Girls | March 5th, 2019 – March 24th, 2019 |
| Scavenger's Daughter | January 15th, 2019 – January 27th, 2019 |
| Now You See Her | October 16th, 2018 – October 4th, 2018 |
| Gertrude and Alice | September 15th, 2018 – October 7th, 2018 |
| LULU v.7 // aspects of a femme fatale | May 1st, 2018 – May 20th, 2018 |
| Mouthpiece | April 11th, 2018 – April 22nd, 2018 |
| Calpurnia | January 14th, 2018 – February 4th, 2018 |
| Unholy | November 23rd, 2017 – December 10th, 2017 |
| Kiinalik: These Sharp Tools | October 24th, 2017 – November 5th, 2017 |
| Our Town | March 26th, 2017 – April 2nd, 2017 |
| Blood Weddings / Bodas de Sangre | March 4th, 2017 – March 19th, 2017 |
| Unholy | January 15th, 2017 – February 5th, 2017 |
| Black Boys | November 19th, 2016 – December 11th, 2016 |
| Mouthpiece | October 20th, 2016 – November 6th, 2016 |
| Quiver | October 20th, 2016 – November 6th, 2016 |
| Blind Date | September 20th, 2016 – October 9th, 2016 |
| Letters to the Universe | June 29th, 2016 |
| The Terrible Parents | April 6th, 2016 – April 17th, 2016 |
| No Strings (Attached) | March 16th, 2016 – March 26th, 2016 |
| Gertrude and Alice | March 5th, 2016 – March 27th, 2016 |
| A Kitchen Sink Drama | February 17th, 2016 – February 20th, 2016 |
| The Gay Heritage Project | January 6th, 2016 – January 31st, 2016 |
| The Other Side of the Cubicle | October 21st, 2015 – October 25th, 2015 |
| The 20th of November | September 12th, 2015 – October 4th, 2015 |
| Durango | May 16th, 2015 – May 31st, 2015 |
| Tom at the Farm | April 11th, 2015 – May 10th, 2015 |
| Blood Wedding / Bodas de Sangre | March 11th, 2015 – March 29th, 2015 |
| Her2 | January 13th, 2015 – February 1st, 2015 |
| The Stronger Variations | November 27th, 2014 – December 7th, 2014 |
| Spin | November 19th, 2014 – November 23rd, 2014 |
| Brotherhood: The Hip Hopera | October 10th, 2014 – October 25th, 2014 |
| The Femme Playlist | October 10th, 2014 – October 25th, 2014 |
| Freda and Jem's Best of the Week | September 13th, 2014 – October 5th, 2014 |
| Queer Bathroom Stories | May 31st, 2014 – June 15th, 2014 |
| Hackerlove | April 30th, 2014 – May 11th, 2014 |
| Me Talking to Myself in the Future | March 26th, 2014 – April 6th, 2014 |
| The Wanderers | March 1st, 2014 – March 23rd, 2014 |
| Manon, Sandra and the Virgin Mary | January 11th, 2014 – February 2nd, 2014 |
| The Gay Heritage Project | November 16th, 2013 – December 8th, 2013 |
| Dinner at Seven-Thirty | October 12th, 2013 – October 20th, 2013 |
| PIG | September 14th, 2013 – September 6th, 2013 |
| A Few Brittle Leaves | April 24th, 2013 – May 5th, 2013 |
| Arigato, Tokyo | March 21st, 2013 – April 14th, 2013 |
| The Penelopiad | January 8th, 2013 – February 10th, 2013 |
| The Normal Heart | October 19th, 2012 – November 18th, 2012 |
| Obaaberima | September 15th, 2012 – October 7th, 2012 |
| Dancing Queen | April 28th, 2012 – April 29th, 2012 |
| Bliss | March 27th, 2012 – April 8th, 2012 |
| Free as Injuns | March 1st, 2012 – March 18th, 2012 |
| The Penelopiad | January 10th, 2012 – January 29th, 2012 |
| Hallaj | November 18th, 2011 – December 4th, 2011 |
| The Normal Heart | October 14th, 2011 – November 6th, 2011 |
| The Maids | September 17th, 2011 – October 9th, 2011 |
| Tightrope | May 26th, 2011 – June 5th, 2011 |
| Agokwe | May 5th, 2011 – May 15th, 2011 |
| The Situationists | April 14th, 2011 – April 24th, 2011 |
| Tombs of the Vanishing Indian | March 10th, 2011 – March 27th, 2011 |
| The Bird | January 8th, 2011 – January 30th, 2011 |
| The Silicone Diaries | November 25th, 2010 – December 11th, 2010 |
| Blasted | September 28th, 2010 – October 17th, 2010 |
| Shudder | April 29th, 2010 – May 9th, 2014 |
| Reconciliation | April 14th, 2010 – April 25th, 2010 |
| Breakfast | March 19th, 2010 – April 4th, 2010 |
| Real Live Girl | March 5th, 2010 |
| La Comunión | January 12th, 2010 – July 31st, 2010 |
| The Salon Automaton | December 1st, 2009 – December 12th, 2009 |
| No Exit | November 11th, 2009 – November 21st, 2009 |
| Neon Nightz | September 23rd, 2009 – October 10th, 2009 |
| Eternal Hydra | May 17th, 2009 – May 31st, 2009 |
| I Have AIDS! | April 22nd, 2009 – May 3rd, 2009 |
| Dedicated to the Revolutions | March 31st, 2009 – April 12th, 2009 |
| /Dance/Songs/ | February 18th, 2009 – February 22nd, 2009 |
| Another City Another Life | February 18th, 2009 – February 22nd, 2009 |
| Leni Riefenstahl vs the 20th Century | February 18th, 2009 – February 22nd, 2009 |
| A Very Polite Genocide or the Girl Who Fell to Earth | December 6th, 2008 – December 21st, 2008 |
| Hamlet | November 20th, 2008 – November 23rd, 2008 |
| [boxhead] | October 21st, 2008 – November 2nd, 2008 |
| Agokwe | September 23rd, 2008 – October 12th, 2008 |
| The Eco Show | May 13th, 2008 – June 1st, 2008 |
| Happy: A Very Gay Little Musical | April 16th, 2008 – April 27th, 2008 |
| Death of a Chief | March 6th, 2008 – March 16th, 2008 |
| Who's Your Dada? | January 23rd, 2008 – February 9th, 2008 |
| Art Fag | January 4th, 2008 – January 13th, 2008 |
| Will the Real J.T. LeRoy Please Stand Up? | April 11th, 2007 – April 22nd, 2007 |
| House | March 7th, 2007 – April 1st, 2007 |
| Monster | January 9th, 2007 – February 4th, 2007 |
| Insomnia | November 7th, 2006 – November 26th, 2006 |
| Here Lies Henry | September 19th, 2006 – October 15th, 2006 |
| A Beautiful View | May 9th, 2006 – May 21st, 2006 |
| Bad Acting Teachers | April 26th, 2006 – May 7th, 2006 |
Current Staff
---