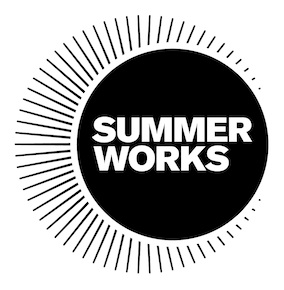 The SummerWorks Performance Festival
Established
1991
Artistic Director: Michael Caldwell
Managing Director: Morgan Norwich
Current staff listing: https://summerworks.ca/about-us/the-team/
In 1991, five friends, Benj Gallander, Greg Holmgren, Carol Pauker, Rob Sherwood and Ben Stadelmann came together to put on the first SummerWorks Festival. The decision to mount a new fringe-style festival was a response to what was seen as a growing, under-represented small theatre community. In its first year, the Festival was a vehicle for the producers to put on their own work as well as assist other companies and artists in producing their work, which they did on a first-come, first-served basis.
From the success of the first year, it was apparent that there was a definite need in the community for this type of festival. Since 1991, SummerWorks has continued to explore and respond to the needs and wants of our audience and theatre community. Each year there were improvements and revisions, instigated by the Producers, often inspired by feedback from the artists participating in the Festival.
From 2000-2004, under the direction of Franco Boni, the Festival made significant changes in order to further distinguish itself as a unique and integral part of the Toronto theatre community. The most significant change was the gradual transition from a lottery system, to a fully juried Festival.
These changes were instrumental in raising the calibre of work so that SummerWorks is now the Ontario's premier festival of cutting-edge, exciting, professional theatre. It is the breeding ground for the mainstage shows of the future and the hub for Toronto's most dynamic, dedicated theatre professionals.
In 2005, the Festival came under the leadership of Artistic Producers Keira Loughran & Kimahli Powell. Their focus was to continue to build support for the artistic excellence the Festival had come to be known for and to serve as a meeting ground of Canada's most exciting and engaging emerging and established artists with the launch of the SummerWorks Canadian Pavilion in 2006.
In 2007, Keira took on full responsibility for the festival as sole Artistic Producer.
In January 2008, Michael Rubenfeld became the Artistic Producer of the Festival, bringing with him his great love for theatre, music, and his desire to find new ways of exploring theatre as a communal experience.
As the largest juried festival in Canada featuring predominantly New Canadian plays, SummerWorks looks to program a festival that uniquely reflects Toronto and Canada's cultural zeitgeist. (summerworks.ca)
Website
---
Produced by The SummerWorks Performance Festival
Presented by The SummerWorks Performance Festival
| | |
| --- | --- |
| The Archive of Missing Things | August 13th, 2019 – August 17th, 2019 |
| White Heat | August 11th, 2019 – August 14th, 2019 |
| Hiraeth | August 10th, 2019 – August 17th, 2019 |
| 805-4821 | August 10th, 2019 – August 17th, 2019 |
| The Scream | August 10th, 2019 – August 18th, 2019 |
| Gender Reveal Party | August 10th, 2019 – August 18th, 2019 |
| Deafy | August 9th, 2019 – August 14th, 2019 |
| Safe and Sorry | August 9th, 2019 – August 16th, 2019 |
| CHILD-ISH | August 8th, 2019 – August 14th, 2019 |
| rochdale | August 8th, 2019 – August 18th, 2019 |
| The Negroes are Congregating | August 15th, 2018 – August 18th, 2018 |
| BOX 4901 | August 12th, 2018 – August 19th, 2018 |
| Swim Team | August 12th, 2018 – August 19th, 2018 |
| A Girl Lives Alone | August 11th, 2018 – August 19th, 2018 |
| Adrenaline | August 11th, 2018 – August 19th, 2018 |
| The Waves | August 11th, 2018 – August 17th, 2018 |
| Hot Cuts | August 11th, 2018 – August 19th, 2018 |
| Body So Fluorescent | August 11th, 2018 – August 19th, 2018 |
| Winners and Losers | August 10th, 2018 – August 17th, 2018 |
| Stray | August 10th, 2018 – August 12th, 2018 |
| Lion Womxn | August 10th, 2018 – August 13th, 2018 |
| The Extinction of Hong Kongers | August 10th, 2018 – August 17th, 2018 |
| Fantasylover | August 9th, 2018 – August 17th, 2018 |
| The Private Life of the Master Race | August 9th, 2018 – August 16th, 2018 |
| The Red Horse is Leaving | August 9th, 2018 – August 15th, 2018 |
| …And You'll Never Believe What Happens Next | August 9th, 2018 – August 18th, 2018 |
| Professionally Ethnic | August 5th, 2017 – August 13th, 2017 |
| The Nails | August 5th, 2017 – August 13th, 2017 |
| These Violent Delights | August 5th, 2017 – August 12th, 2017 |
| The Only Good Indian | August 4th, 2017 – August 13th, 2017 |
| Explosions for the 21st Century | August 4th, 2017 – August 12th, 2017 |
| White Man's Indian | August 4th, 2017 – August 12th, 2017 |
| Divine | August 4th, 2017 – August 13th, 2017 |
| Let's Try This Standing | August 4th, 2017 – August 13th, 2017 |
| What Linda Said | August 3rd, 2017 – August 13th, 2017 |
| Rootless | August 3rd, 2017 – August 13th, 2017 |
| Reality Theatre | August 3rd, 2017 – August 13th, 2017 |
| Someone Between | August 3rd, 2017 – August 12th, 2017 |
| Almeida (The Glorious) | August 3rd, 2017 – August 9th, 2017 |
| Mother Sea / Manman La Mer | August 3rd, 2017 – August 13th, 2017 |
| The Chemical Valley Project | August 3rd, 2017 – August 13th, 2017 |
| Spawn | August 3rd, 2017 – August 13th, 2017 |
| Perfection | August 3rd, 2017 – August 13th, 2017 |
| 14 Scattered Islands | August 10th, 2016 – August 13th, 2016 |
| eatingthegame | August 9th, 2016 – August 14th, 2016 |
| Amanah | August 8th, 2016 – August 14th, 2016 |
| Ghosts | August 7th, 2016 – August 14th, 2016 |
| Sext | August 7th, 2016 – August 12th, 2016 |
| Situational Anarchy | August 6th, 2016 – August 13th, 2016 |
| A Moment of Silence | August 6th, 2016 – August 14th, 2016 |
| I'm Not Here | August 6th, 2016 – August 9th, 2016 |
| Imaginary Anthropologies | August 5th, 2016 – August 13th, 2016 |
| Osia | August 5th, 2016 – August 14th, 2016 |
| Plucked | August 5th, 2016 – August 14th, 2016 |
| The Unbelievers | August 5th, 2016 – August 14th, 2016 |
| #7Love | August 5th, 2016 – August 12th, 2016 |
| Extremophiles | August 5th, 2016 – August 14th, 2016 |
| Mr. Shi and His Lover | August 5th, 2016 – August 13th, 2016 |
| My Nightmares Wear White | August 5th, 2016 – August 14th, 2016 |
| Naked Ladies | August 4th, 2016 – August 12th, 2016 |
| This is How We Got Here | August 4th, 2016 – August 14th, 2016 |
| This is the August | August 4th, 2016 – June 14th, 2016 |
| Trompe-La-Mort, or Goriot in the 21st Century | August 4th, 2016 – August 14th, 2016 |
| Two Indians | August 4th, 2016 – August 13th, 2016 |
| Tomorrow's Child | August 4th, 2016 – August 14th, 2016 |
| 4 1/2 (ig)noble truths | August 4th, 2016 – August 14th, 2016 |
| Bleeders | August 4th, 2016 – August 14th, 2016 |
| Daughter | August 4th, 2016 – August 14th, 2016 |
| Don't Talk to Me Like I'm Your Wife | August 4th, 2016 – August 14th, 2016 |
| Nize It | August 4th, 2016 – August 12th, 2016 |
| In Utero Out | August 4th, 2016 – August 10th, 2016 |
| Inside | August 4th, 2016 – August 13th, 2016 |
| Lessons in Temperament | August 4th, 2016 – August 14th, 2016 |
| Quiet Revolution | August 4th, 2016 – August 10th, 2016 |
| Wake for Lost Time | August 14th, 2015 – August 15th, 2015 |
| Counting Sheep | August 10th, 2015 – August 16th, 2015 |
| The Hum | August 8th, 2015 – August 16th, 2015 |
| Castor and Sylvie | August 8th, 2015 – August 16th, 2015 |
| The Emancipation of Ms. Lovely | August 8th, 2015 – August 16th, 2015 |
| Mapleman: Canuck Crusader | August 8th, 2015 – August 15th, 2015 |
| Performance About a Woman | August 7th, 2015 – August 16th, 2015 |
| Moderato Cantabile | August 7th, 2015 – August 16th, 2015 |
| Face Value: West | August 7th, 2015 – August 16th, 2015 |
| This Play Wins | August 7th, 2015 – August 15th, 2015 |
| LOVE+HATE | August 7th, 2015 – August 16th, 2015 |
| The Living | August 7th, 2015 – August 16th, 2015 |
| Beautiful Man | August 7th, 2015 – August 16th, 2015 |
| Like There's No Tomorrow | August 7th, 2015 – August 15th, 2015 |
| This is Where We Live | August 7th, 2015 – August 16th, 2015 |
| Better Angels: A Parable | August 7th, 2015 – August 16th, 2015 |
| Deceitful Above All Things | August 7th, 2015 – August 15th, 2015 |
| Stupidhead! (A Mucisal Cmoedy) | August 7th, 2015 – August 16th, 2015 |
| The Tall Building | August 6th, 2015 – August 16th, 2015 |
| Return Home | August 6th, 2015 – August 16th, 2015 |
| Seams | August 6th, 2015 – August 16th, 2015 |
| An Evening in July | August 6th, 2015 – August 16th, 2015 |
| Aperture | August 6th, 2015 – August 10th, 2015 |
| Upon the Fragile Shore | August 6th, 2015 – August 16th, 2015 |
| Tough Guy Mountain: A Play | August 6th, 2015 – August 16th, 2015 |
| Offending the Audience | August 6th, 2015 – August 15th, 2015 |
| Ayelen | August 6th, 2015 – August 11th, 2015 |
| the marquise of O- | August 6th, 2015 – August 16th, 2015 |
| In Case of Nothing | August 6th, 2015 – August 16th, 2015 |
| MacArthur Park Suite: A Disco Ballet | August 6th, 2015 – August 12th, 2015 |
| Lac/Athabasca | August 6th, 2015 – August 15th, 2015 |
| That Syncing Feeling | August 6th, 2015 – August 16th, 2015 |
| If Hearts Could Bloom | August 14th, 2014 – August 16th, 2014 |
| Young Drones | August 14th, 2014 – August 17th, 2014 |
| Trace | August 12th, 2014 – August 17th, 2014 |
| Black or Ange | August 11th, 2014 – August 17th, 2014 |
| Recurring John | August 10th, 2014 |
| Unknown Soldier | August 9th, 2014 – August 16th, 2014 |
| Complex | August 9th, 2014 – August 17th, 2014 |
| Maracatu You! | August 9th, 2014 – August 17th, 2014 |
| Thus Spoke… | August 9th, 2014 – August 16th, 2014 |
| The Bull, The Moon and the Coronet of Stars | August 9th, 2014 – August 17th, 2014 |
| Transfusions | August 8th, 2014 – August 12th, 2014 |
| Chicken Grease is Nasty Business | August 8th, 2014 – August 16th, 2014 |
| Fuck You! You Fucking Perv! | August 8th, 2014 – August 17th, 2014 |
| El Jinete – A Mariachi Opera | August 8th, 2014 – August 16th, 2014 |
| A Quiet Sip of Coffee (or, This is Not the Play We've Written) | August 8th, 2014 – August 17th, 2014 |
| ROW | August 8th, 2014 – August 17th, 2014 |
| The Container | August 7th, 2014 – August 17th, 2014 |
| The Devil You Know | August 7th, 2014 – August 10th, 2014 |
| Unintentionally Depressing Children's Tales | August 7th, 2014 – August 17th, 2014 |
| Women Who Shout at the Stars | August 7th, 2014 – August 17th, 2014 |
| The Good Story | August 7th, 2014 – August 17th, 2014 |
| Yarn | August 7th, 2014 – August 17th, 2014 |
| He Left Quietly | August 7th, 2014 – August 16th, 2014 |
| Jacqueries, Part 1 | August 7th, 2014 – August 17th, 2014 |
| Kafka's Ape | August 7th, 2014 – August 17th, 2014 |
| Madam Mao | August 7th, 2014 – August 17th, 2014 |
| Gash! | August 7th, 2014 – August 17th, 2014 |
| Blindsided | August 7th, 2014 – August 17th, 2014 |
| Graceful Rebellions | August 7th, 2014 – August 16th, 2014 |
| Half Girl/Half Face | August 7th, 2014 – August 15th, 2014 |
| Paradise Red | August 7th, 2014 – August 17th, 2014 |
| Antigonick | August 7th, 2014 – August 17th, 2014 |
| The Water Thief | August 7th, 2014 – August 15th, 2014 |
| Against Gravity | August 7th, 2014 – August 16th, 2014 |
| Bitter Medicine | August 7th, 2014 – August 17th, 2014 |
| The Widow | August 7th, 2014 – August 17th, 2014 |
| And Now, The End | August 7th, 2014 – August 17th, 2014 |
| Tragedy: A Tragedy | August 7th, 2014 – August 16th, 2014 |
| Schützen | August 14th, 2013 – August 17th, 2013 |
| Enough Rope | August 10th, 2013 – August 17th, 2013 |
| To Myself at 28 | August 10th, 2013 – August 18th, 2013 |
| Maria Gets a New Life | August 9th, 2013 – August 17th, 2013 |
| Nanny: Maroon Warrior Queen | August 9th, 2013 – August 17th, 2013 |
| 7 Important Things | August 9th, 2013 – August 17th, 2013 |
| Broken | August 9th, 2013 – August 18th, 2013 |
| Salome's Clothes | August 9th, 2013 – August 17th, 2013 |
| The Art of Building a Bunker or Paddling the Canoe of my Self down the River of Inclusivity and into the Ass of the World | August 9th, 2013 – August 17th, 2013 |
| This Wide Night | August 9th, 2013 – August 17th, 2013 |
| Trying for the Kingdom | August 9th, 2013 – August 18th, 2013 |
| Utopia | August 9th, 2013 – August 18th, 2013 |
| Happily Ever After | August 9th, 2013 – August 11th, 2013 |
| Zero Visibility | August 9th, 2013 – August 17th, 2013 |
| Holy Mothers (Die Präsidentinnen) | August 9th, 2013 – August 17th, 2013 |
| How Can I Forget? | August 9th, 2013 – August 15th, 2013 |
| Late Company | August 9th, 2013 – August 18th, 2013 |
| Love, at the End of World | August 9th, 2013 – August 11th, 2013 |
| Murderers Confess at Christmas Time | August 8th, 2013 – August 17th, 2013 |
| Oubliette | August 8th, 2013 – August 17th, 2013 |
| Purgatory in Ingleton | August 8th, 2013 – August 18th, 2013 |
| A Side of Dreams | August 8th, 2013 – August 17th, 2013 |
| Alzheimer That Ends Heimer | August 8th, 2013 – August 18th, 2013 |
| Camila's Bones | August 8th, 2013 – August 17th, 2013 |
| Show and Tell Alexander Bell | August 8th, 2013 – August 18th, 2013 |
| Delicacy | August 8th, 2013 – August 17th, 2013 |
| Eating Pomegranates Naked | August 8th, 2013 – August 17th, 2013 |
| Tender Napalm | August 8th, 2013 – August 17th, 2013 |
| The Ballad of Weedy Peetstraw | August 8th, 2013 – August 17th, 2013 |
| Entitlement | August 8th, 2013 – August 18th, 2013 |
| The Life Of Jude | August 8th, 2013 – August 18th, 2013 |
| Family Story | August 8th, 2013 – August 18th, 2013 |
| Final Savage Land | August 8th, 2013 – August 18th, 2013 |
| For Me? | August 8th, 2013 – August 18th, 2013 |
| Girls! Girls! Girls! | August 8th, 2013 – August 17th, 2013 |
| Good People Bad Things | August 8th, 2013 – August 18th, 2013 |
| Wild Dogs on the Moscow Trains | August 8th, 2013 – August 18th, 2013 |
| X | August 8th, 2013 – August 17th, 2013 |
| How to Disappear Completely | August 8th, 2013 – August 18th, 2013 |
| I Am Very Far | August 8th, 2013 – August 18th, 2013 |
| iShow | August 8th, 2013 – August 17th, 2013 |
| Jackie's Not a Real Girl | August 8th, 2013 – August 17th, 2013 |
| Terminus | August 11th, 2012 – August 19th, 2012 |
| A Thousand Words | August 11th, 2012 – August 19th, 2012 |
| Violent be Violet | August 11th, 2012 – August 19th, 2012 |
| A Song for Tomorrow | August 11th, 2012 – August 19th, 2012 |
| Dutchman | August 10th, 2012 – August 17th, 2012 |
| Dumbo Squid | August 10th, 2012 – August 19th, 2012 |
| Artaud: Un Portrait en Décomposition | August 10th, 2012 – August 19th, 2012 |
| Iceland | August 10th, 2012 – August 19th, 2012 |
| Extinction Song | August 10th, 2012 – August 19th, 2012 |
| Petrichor | August 10th, 2012 – August 19th, 2012 |
| Haunted | August 10th, 2012 – August 19th, 2012 |
| Fierce Monsters | August 10th, 2012 – August 19th, 2012 |
| Marine Life | August 10th, 2012 – August 19th, 2012 |
| Breath in Between | August 9th, 2012 – August 18th, 2012 |
| Your Side, My Side, and the Truth | August 9th, 2012 – August 19th, 2012 |
| Terre Haute | August 9th, 2012 – August 18th, 2012 |
| Ally & Kev | August 9th, 2012 – August 18th, 2012 |
| Big Plans | August 9th, 2012 – August 19th, 2012 |
| Pietà | August 9th, 2012 – August 19th, 2012 |
| When it Rains | August 9th, 2012 – August 19th, 2012 |
| Barrel Crank | August 9th, 2012 – August 18th, 2012 |
| France, or The Niqab | August 9th, 2012 – August 19th, 2012 |
| Ajax (por nobody) | August 9th, 2012 – August 19th, 2012 |
| I, Animal | August 9th, 2012 – August 19th, 2012 |
| The Safe Word | August 6th, 2011 – August 14th, 2011 |
| The Particulars & In General | August 6th, 2011 – August 13th, 2011 |
| Exit, Pursued by a Bear | August 6th, 2011 – August 13th, 2011 |
| Out At Sea | August 5th, 2011 – August 14th, 2011 |
| Pretty Little Instincts | August 5th, 2011 – August 13th, 2011 |
| White Rabbit, Red Rabbit | August 5th, 2011 – August 14th, 2011 |
| Stitch | August 5th, 2011 – August 14th, 2011 |
| Long Dark Night | August 5th, 2011 – August 14th, 2011 |
| Third Floor | August 5th, 2011 – August 14th, 2011 |
| The Physical Ramifications of Attempted Global Domination | August 5th, 2011 – August 14th, 2011 |
| Little One | August 5th, 2011 – August 14th, 2011 |
| One | August 5th, 2011 – August 14th, 2011 |
| Freda & Jem's Best of the Week | August 5th, 2011 – August 12th, 2011 |
| Lizardboy | August 5th, 2011 – August 14th, 2011 |
| Eurydice | August 4th, 2011 – August 13th, 2011 |
| Elora Gorge | August 4th, 2011 – August 14th, 2011 |
| Little Crickets | August 4th, 2011 – August 14th, 2011 |
| Malaria Lullaby | August 4th, 2011 – August 14th, 2011 |
| Perhaps in a Hundred Years | August 4th, 2011 – August 14th, 2011 |
| Express Yourself | August 4th, 2011 – August 14th, 2011 |
| Hannah's Turn | August 4th, 2011 – August 13th, 2011 |
| I | August 4th, 2011 – August 14th, 2011 |
| Combat | August 4th, 2011 – August 14th, 2011 |
| Hero & Leander | August 4th, 2011 – August 13th, 2011 |
| Waterfront: The Blessing | August 4th, 2011 – August 13th, 2011 |
| Zugzwang | August 4th, 2011 – August 14th, 2011 |
| You Should Have Stayed Home | August 4th, 2011 – August 13th, 2011 |
| The Trolley Car | August 4th, 2011 – August 14th, 2011 |
| Strange Mary Strange | August 4th, 2011 – August 14th, 2011 |
| Mr. Marmalade | August 4th, 2011 – August 13th, 2011 |
| The Foreign Exchange | August 10th, 2010 – August 15th, 2010 |
| Aftershock | August 7th, 2010 – August 14th, 2010 |
| The Innocents | August 7th, 2010 – August 14th, 2010 |
| Redheaded Stepchild | August 7th, 2010 – August 15th, 2010 |
| All of Him | August 6th, 2010 – August 15th, 2010 |
| Haunted Hillbilly | August 6th, 2010 – August 15th, 2010 |
| Wonderland | August 6th, 2010 – August 15th, 2010 |
| Say Ginger Ale | August 6th, 2010 – August 15th, 2010 |
| Kayak | August 6th, 2010 – August 15th, 2010 |
| Post Eden | August 6th, 2010 – August 15th, 2010 |
| Or, | August 6th, 2010 – August 15th, 2010 |
| Iphigenia at Aulis | August 6th, 2010 – August 15th, 2010 |
| Souvenir's of Home | August 6th, 2010 – August 15th, 2010 |
| Molotov Circus | August 6th, 2010 – August 15th, 2010 |
| Bliss | August 6th, 2010 – August 14th, 2010 |
| The Emotionalists | August 6th, 2010 – August 15th, 2010 |
| Loving the Stranger or How to Recognize an Invert | August 6th, 2010 – August 15th, 2010 |
| Miss Caledonia | August 5th, 2010 – August 15th, 2010 |
| IXOK' | August 5th, 2010 – August 15th, 2010 |
| I Was Barbie | August 5th, 2010 – August 15th, 2010 |
| The Saddest Girl in the World | August 5th, 2010 – August 15th, 2010 |
| Even Darkness is Made of Light | August 5th, 2010 – August 15th, 2010 |
| Theory | August 5th, 2010 – August 15th, 2010 |
| The Kreutzer Sonata | August 5th, 2010 – August 15th, 2010 |
| Ride the Cyclone | August 5th, 2010 – August 15th, 2010 |
| Avatar | August 5th, 2010 – August 14th, 2010 |
| The Witch of Edmonton | August 5th, 2010 – August 14th, 2010 |
| Countries Shaped Like Stars | August 5th, 2010 – August 15th, 2010 |
| Shed | August 5th, 2010 – August 14th, 2010 |
| Biographies of the Dead & Dying | August 5th, 2010 – August 15th, 2010 |
| Homegrown | August 5th, 2010 – August 14th, 2010 |
| Fear & Misery of the Third Reich | August 8th, 2009 – August 16th, 2009 |
| Say Nothing Saw Wood | August 7th, 2009 – August 16th, 2009 |
| Actionable | August 7th, 2009 – August 15th, 2009 |
| Underneath | August 7th, 2009 – August 16th, 2009 |
| Waiting for the Dawn | August 7th, 2009 – August 15th, 2009 |
| Greenland | August 7th, 2009 – August 15th, 2009 |
| Red Machine: Part Two | August 7th, 2009 – August 16th, 2009 |
| Job's Wife | August 7th, 2009 – August 16th, 2009 |
| Lake Nora Arms | August 7th, 2009 – August 16th, 2009 |
| The Epic of Gilgamesh (Up Until the Part Where Enkidu Dies) | August 7th, 2009 – August 16th, 2009 |
| The Nick Drake Project | August 7th, 2009 – August 15th, 2009 |
| The Piano Tuner | August 6th, 2009 – August 16th, 2009 |
| Apricots | August 6th, 2009 – August 16th, 2009 |
| The Art of Catching Pigeons by Torchlight | August 6th, 2009 – August 16th, 2009 |
| My Funny Valentine | August 6th, 2009 – August 16th, 2009 |
| The Ecstasy of Mother Teresa or: Agnes Bojaxhiu Superstar | August 6th, 2009 – August 16th, 2009 |
| Melancholy Play | August 6th, 2009 – August 15th, 2009 |
| Montparnasse | August 6th, 2009 – August 16th, 2009 |
| Sum of its Parts | August 6th, 2009 – August 14th, 2009 |
| XXX Live Nude Girls | August 6th, 2009 – August 16th, 2009 |
| 7 Days 7 Days | August 6th, 2009 – August 16th, 2009 |
| Toronto Noir | August 6th, 2009 – August 15th, 2009 |
| I'll Always Be There to Kill You / Je Serai Toujours La Pour Te Tuer | August 6th, 2009 – August 16th, 2009 |
| Old Peculiar | August 6th, 2009 – August 12th, 2009 |
| The Middle Place | August 6th, 2009 – August 15th, 2009 |
| The Centre | August 6th, 2009 – August 15th, 2009 |
| Ablaze | August 9th, 2008 – August 16th, 2008 |
| The Old Tune | August 8th, 2008 – August 17th, 2008 |
| Marla's Party | August 8th, 2008 – August 17th, 2008 |
| The Dwarfs | August 8th, 2008 – August 17th, 2008 |
| The Girl With no Hands | August 8th, 2008 – August 16th, 2008 |
| I'm So Close It's Not Even Funny | August 8th, 2008 – August 17th, 2008 |
| Crush | August 8th, 2008 – August 17th, 2008 |
| Pelee | August 8th, 2008 – August 17th, 2008 |
| Fewer Emergencies | August 8th, 2008 – August 16th, 2008 |
| If We Were Birds | August 8th, 2008 – August 17th, 2008 |
| Raising Luke | August 7th, 2008 – August 17th, 2008 |
| Any Night | August 7th, 2008 – August 17th, 2008 |
| A Soldier's Story (L'Histoire du Soldat) | August 7th, 2008 – August 16th, 2008 |
| Talk Sixty to Me | August 7th, 2008 – August 17th, 2008 |
| The Emergency Monologues | August 7th, 2008 – August 17th, 2008 |
| My Leaky Body | August 7th, 2008 – August 17th, 2008 |
| In Darfur | August 7th, 2008 – August 17th, 2008 |
| The Kente Cloth | August 7th, 2008 – August 17th, 2008 |
| Arm's Length | August 7th, 2008 – August 16th, 2008 |
| The Pastor Phelps Project | August 7th, 2008 – August 17th, 2008 |
| Sex and the Saudi | August 7th, 2008 – August 13th, 2008 |
| Rendezvous With Home | August 7th, 2008 – August 17th, 2008 |
| The Red Devil (Djalli i Kuq) | August 7th, 2008 – August 17th, 2008 |
| (Never Underestimate) The Power | August 7th, 2008 – August 17th, 2008 |
| Fridays with Frieda | August 5th, 2008 – August 13th, 2008 |
| Anorexican | August 4th, 2007 – August 12th, 2007 |
| In Full Light | August 3rd, 2007 – August 11th, 2007 |
| Hard Ways | August 3rd, 2007 – August 9th, 2007 |
| Terminating | August 3rd, 2007 – August 12th, 2007 |
| Mexico City & Yogyakarta | August 3rd, 2007 – August 11th, 2007 |
| Quilchena | August 2nd, 2007 – August 11th, 2007 |
| The Trial of Thumbelina | August 2nd, 2007 – August 12th, 2007 |
| The Big Smoke | August 2nd, 2007 – August 11th, 2007 |
| Honk if You Can Hear Me! | August 2nd, 2007 – August 12th, 2007 |
| Offensive Shadows | August 2nd, 2007 – August 12th, 2007 |
| Trudeau Stories | August 2nd, 2007 – August 12th, 2007 |
| Interrogation | August 5th, 2006 – August 12th, 2006 |
| Don't Wake Me | August 4th, 2006 – August 13th, 2006 |
| 4.48 Psychosis | August 4th, 2006 – August 12th, 2006 |
| The Review | August 4th, 2006 – August 13th, 2006 |
| The Russian Play | August 3rd, 2006 – August 13th, 2006 |
| Oops! | August 3rd, 2006 – August 13th, 2006 |
| Delirium | August 3rd, 2006 – August 13th, 2006 |
Current Staff
---